GPRS is providing our 99.8% accurate utility locating and mapping to UToledo's campus in exchange for field training for our Project Managers
GPRS Project Managers locate & map utilities at The University of Toledo as part of their training.
While the GPRS Academy at our Silica Rd. location in Toledo provides the cutting edge in utility locating and mapping training for our Project Managers, we also want them to have hands-on experience in the field in real-world, complex scenarios.
That's one reason we began a long-term partnership with The University of Toledo (UToledo) in 2021 – to continue our commitment to put our Project Managers in real-world field conditions as part of their SIM certification training.
‍Evan Soto, GPRS Field Support Training Specialist, describes why we feel it is important to take the extra step beyond our state-of-the art training facility.
‍"It lets [Project Managers] experience different situations, things that might arise on different sites and environments… So that when they are in the field, doing real-world training, they're doing things the right way, following the right processes, game-planning, being efficient."
‍The other equally important part of that partnership is that GPRS is providing UToledo with our 99.8% accurate scans and maps of their utilities, gas lines, state-of-the-art Video Pipe Inspection (VPI) of water and sewer pipes, and in the near future, complete 3D scans and maps of their entire campus, above and below ground, with our expanded TruePoint 3D Laser Scanning services and proprietary SiteMap pilot program.
‍Recently we talked with Daniel Perry, The University of Toledo's Electrical Maintenance Manager, about how our training partnership and campus mapping are progressing.
"We've got a little bit of everything here, with steam, condensate [drains], water, gas. You name it, we've got it on site."
Perry would know, because his job at the University encompasses everything from electrical and telecom, to life safety, building operations, and construction project management. And it is all those complex systems that make UToledo an optimal field experience for our Project Managers.
‍
Which is why we have woven the campus into our SIM Certification program education.
‍
"We have this pretty unique partnership with University of Toledo. They're essentially letting us use the campus as a training ground so we can do different scenarios. And in the process, we're helping them to locate and map all of their underground utilities throughout the entire campus. So, it's really cool because we can bring each new training class out here, take them to different areas of the campus, locate, collect it with GPS, put it on a map. And eventually, The University of Toledo will have this nice built-out map," says GPRS' Soto.
All of those utility maps, and the above-ground 3D facility mapping we'll be doing at the campus in the future, will soon have a cross-referenced, digital home in GPRS' new SiteMap platform, as part of our pilot program.
SiteMap is a complete geospatial solution for facility and campus management, whether you're managing a single building or multi-facility campuses across the United States. SiteMap allows users to experience the entire facility, from the roof through the subsurface infrastructure and everything in between, all tagged, geolocated, and cross-referenced for seamless facility management anywhere in the U.S.
‍
Until they partnered with GPRS, the University had never used an outside underground utility locating service, and although UToledo has strong reporting and updating guidelines for their facilities, they experienced a serious a gas line strike last year. Perry described how frustrating and scary the problem of inaccurate utility mapping can be.
‍
"We knew [the gas line] was nearby, our prints kind of showed it. It wasn't where we found it. We were drilling a hole right next to it, and we heard the hissing. It happened very quickly. A project had to stop, we lost the gas to about four buildings on the campus… Shut down our Student Union, our dining facility, for a good about eight hours… It was an awful feeling. We knew we had it close by and we thought we were good. When you hit a gas line, you can hear it. It was an awful feeling, it really was."
‍
The University does its best to keep up-to-date drawings, as-builts, and records, which Perry evaluates as about 90% accurate, and they have strong reporting and revision processes in place. But those processes are only as good as the various departments and contractors who are required to provide their data, and most of it is still on paper.
‍
So, GPRS' digital products were a revelation. "[The graphics] are so much better. There's all that detail that you can add, notes you want to add. It has definitely further enhanced what we have… taken it to a whole new level for us," Perry said in a recent interview.
‍
"We've got the same, but yours is so much better. The definition, the detail, and all that. We don't show all the manholes, we just show lines. We'll show lines ending here and there. The detail that we're being provided is so much better."
‍
Since we began the partnership program, GPRS has been providing our 99.8% accurate utility location scanning and maps to UToledo, which has greatly improved their capabilities to see their entire utility infrastructure at a glance. As we expand our mapping to include TruePoint's 3D imaging and point clouds, we will provide the University with a complete as-built record of their entire campus.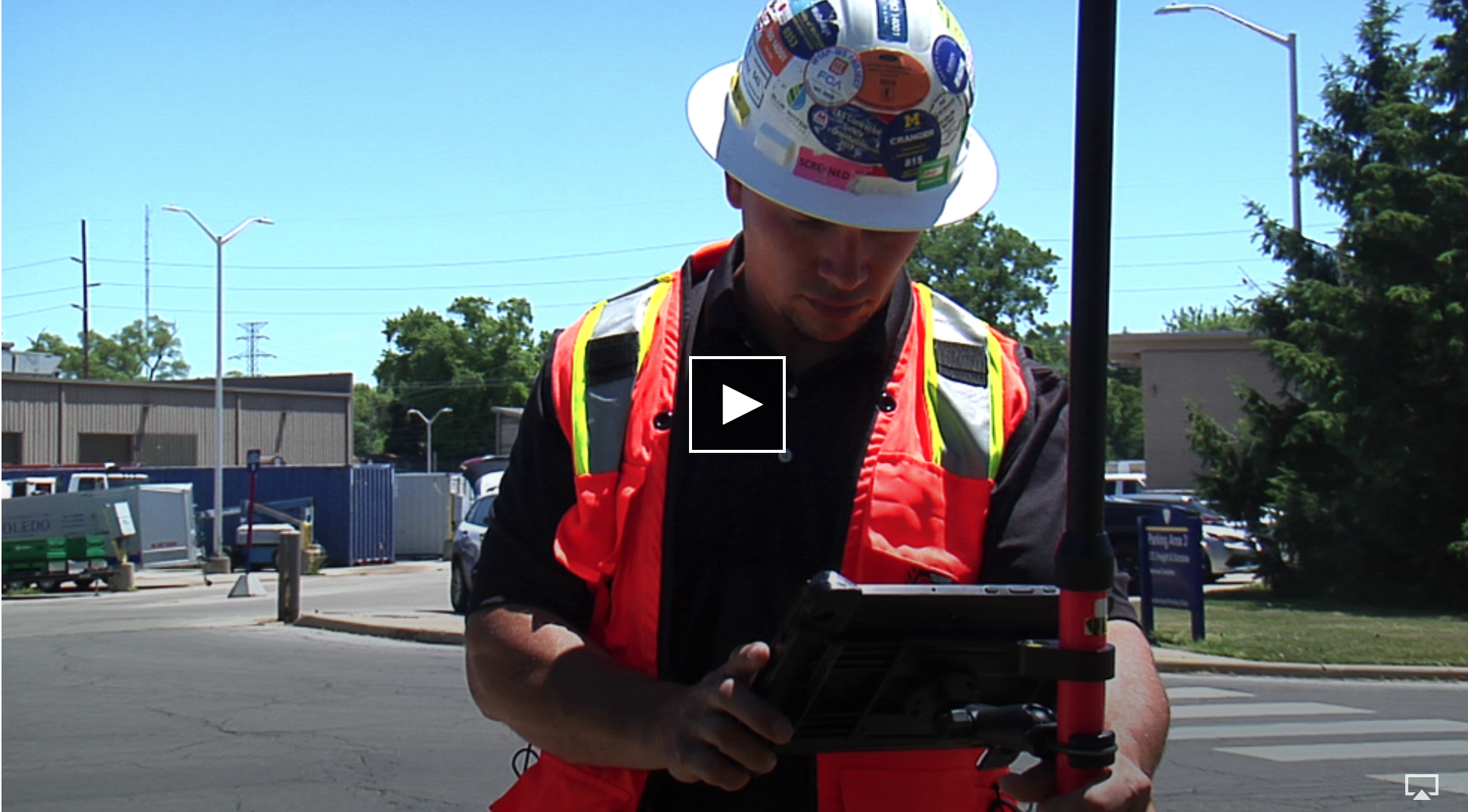 Sutton Dunnavant from NBC 24 News also spoke with both Perry and GPRS Senior Vice President of Customer Relations, Jason Schaff, about how our partnership benefits UToledo. To see that interview, click here.
‍
Perry noted that whenever GPRS' Project Managers find something that isn't on the University's plans, they now routinely add our findings to their archived drawings because, "Anytime we put a shovel on the ground, from a stop sign to a sign for a parking lot… We're mapping it out… It's invaluable information that, if you don't have it, you're not going to get it once you do a project. You can't find it again, until you find it the hard way, so it's invaluable."
‍
Plus, with SiteMap's interactive digital experience, The University of Toledo will have instant access to enhanced 3D imaging and walk-throughs, actual video of plumbing and lateral pipe defects, and cross-referenced contextual materials to hopefully make sure another hit – like their gas line hit last year – won't occur again.
‍
If you'd like more information about GPRS & SiteMap's geospatial solutions for facility mapping and management, click here to learn more.