With the amazing capabilities of SiteMap®, powered by GPRS, facility managers and their teams are provided with the modern digital tools they need to Visualize the Built World™ while collaborating better than ever before. Be it 3D Laser Scanning, Utility Locating, or Concrete Imaging, GPRS' expert job site evaluation services maintain a 99.8% accuracy rate. The data collected by these highly accurate and thorough processes can then be uploaded to the SiteMap® platform to generate comprehensive 3D maps and models to visualize job site features above and below ground and how exactly they spatially relate to each other. This state-of-the-art infrastructure management software also allows projects to streamline communication and easily and securely share these up-to-date files and models across multiple teams through its collaborative friendly platform.
By utilizing the industry-leading GIS evaluation capabilities of SiteMap®, facility management is made easier by providing an all-in-one solution to construction management and design. With these innovative digital tools, project teams can remain confident that they are all operating on the same page, equipped with the most accurate and recent maps and models of the project site. We are proud to say SiteMap® offers Collaboration Redefined™ through this modern approach to construction project management, because facility managers can integrate and manage the level of communication, organization, and safety on any project.
The success of this platform technology can be attributed to its two key features: the Map Viewer and the Digital Plan Room. The Digital Plan room serves as a secure, central repository for all important permits, data, and reports. Within Map Viewer, the process of viewing facility data is then made more efficient than ever before by allowing users to seamlessly connect locational data with corresponding uploaded documents, models, and specifications.
A great example of how hyper-accurate data collection and communication can be used to bring facility data to life is through the process of 3D laser scanning. GPRS/TruePoint provides millimeter accurate evaluation, mapping, and modeling for clients across the U.S.. For example, on a recent project GPRS/TruePoint partnered with The Famous Group (TFG) to create a mixed reality video campaign for Gillette Stadium, SiteMap® could have easily integrated moving parts for all the various contractors and talent on the project.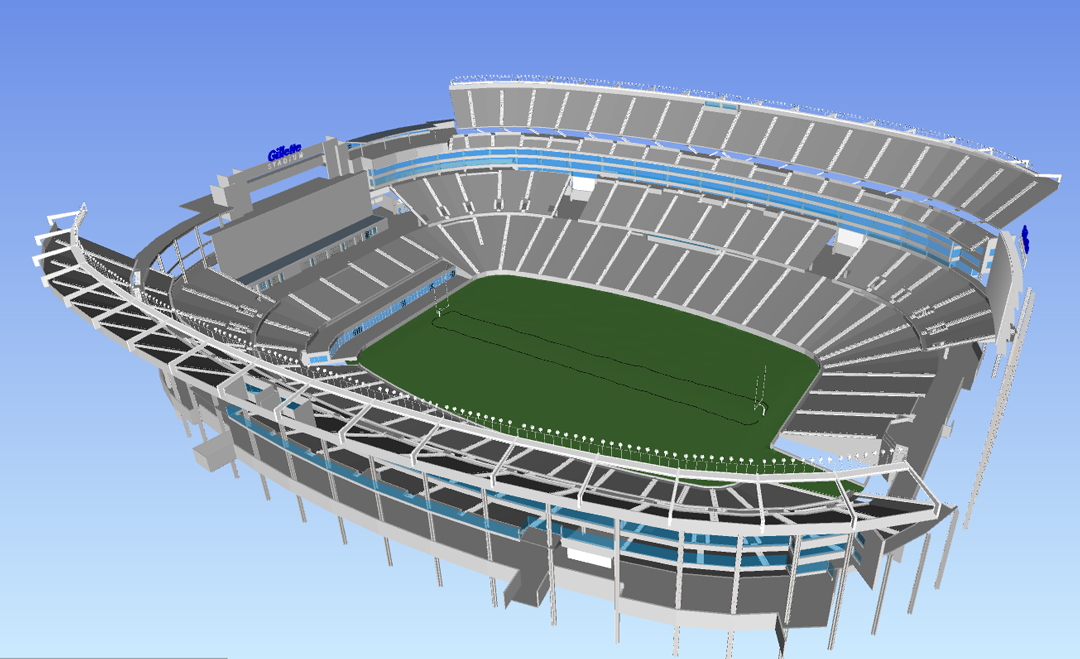 During the October 24, 2022 Chicago Bears vs. New England Patriots football game at Gillette Stadium, a virtual reality video campaign aired. This campaign promoted the new Gillette Exfoliating Bar Razor. During this creative commercial scene, the Patriot's mascot enters the locker room and flips the "Gillette Labs Switch," which then triggers an augmented reality sequence out on the field surrounded by thousands of fans. This sequence played out the assembly of a giant Gillette razor floating over the field followed by a grand finale of fireworks. Not only was this an incredible and innovative feat of entertainment, but it also marked the first time ever in which a retail product has been brought to life using mixed reality software in this way.
The accurate evaluation capabilities of GPRS provided The Famous Group with a comprehensive 3D model of the entire stadium so they could perfectly place their incredible virtual designs. Even The Famous Group's EVP of Business Development, Andrew Isaacson, stated in an interview that followed the commercial's airing that the laser scan data was provided with "pinpoint accuracy of the location of existing architecture," which TFG then used their "mixed reality effects to make it come to life."
In addition to mixed reality commercials, GPRS 3D laser scanning, mapping, and modeling services have also been used to create mixed reality sequences bringing favorite NFL team mascots to life, giving fans a completely new experience both at home on their TVs and in person on the stadiums' jumbotrons.
One of the most exciting mixed reality creations GPRS capabilities helped develop was for the Bank of America Stadium's Carolina Panther. When you visit The Famous Group's home page, the first video they feature begins with a massive panther prowling the Bank of America Stadium during a Carolina Panthers game in Charlotte, North Carolina. In life-like speed the panther leaps down from the top of the Bank of America Stadium's scoreboard and races across the field.
Having seen this now-famous video, you might think that it took ages to map such a massive stadium before TFG could render such an impressive mixed reality sequence. However, it only took GPRS' Project Managers 1.5 onsite days to scan the entire Bank of America Stadium with a Leica P40 ScanStation. This efficient, time-saving scanning process provided a hyper-accurate backdrop for this incredible mixed reality mascot, saving the project time to focus on the creative feat of this design.
In addition to providing 3D laser scanning services to evaluate the massive stadium, GPRS Project Managers also scanned and modeled Todd Andrew's "Gentle Giant" sculpture of the fierce panther mascot which has famously guarded the stadium gates and is well recognized by Carolina Panther fans. The digital model of this beloved sculpture helped bring this iconic statue to life both on TV during the NFL's broadcast of the game and on the stadium's Jumbotron. By using the scans of this work of art, TFG could create a life-like visual that would truly resonate with every fan, whether they were viewing from home or at the game.
Another exciting NFL mascot project GPRS supported was TFG's design of a mixed reality raven. This sequence featured a giant, menacing raven perched on the goal post of M&T Bank Stadium's field in Baltimore, Maryland, before spreading its massive wings and taking flight across the field during a recent Baltimore Ravens home game.
This project in particular presented a number of unique challenges, especially because the design required such high levels of accuracy to realistically show the raven perched on the goal post, and still maintain visibility of the dark colored bird against the night sky. When interviewed about the project and its complexity, TFG's Greg Harvey said "The beauty of mixed reality is the ability of computer-generated objects to interact with the physical environment, this sells the realism." In this case, the hyper-realistic experience for viewers was only achieved because, "parts of the stadium were captured with a laser-scanning technique," so that, "when the bird is actually on the uprights, its claws wrap around the crossbar and its wings appear behind the uprights." Without the capabilities of 3D laser scanning technology, these fine details could not be made possible!
What new project visualizations can we bring to life for you? Learn more about how SiteMap®, powered by GPRS, offers Collaboration Redefined™ to facility managers and their teams for projects of all sizes and levels of complexity. For more information, download our brochure and contact us for a quote today!