Underground Mapping Solutions for Municipalities
Whether you are managing a commercial, residential, or industrial construction project, it is crucial to properly maintain all your facility's required permits, job site evaluation data, and most recent maps and models. This is especially true for municipal projects in which failure to perform proper inspections and the misplacement of important data files can result in major project delays and unexpected additional costs.
As defined by Law Insider, a municipal construction project is defined as a "significant construction project undertaken… on behalf of the Township which involves or affects municipal highways, municipal property or other property, or municipal services."
These projects play a crucial role in the local economic development of a given community, allowing it to "prioritize economic growth to create jobs, keep up with rising costs and maintain a competitive advantage over other municipalities or regions."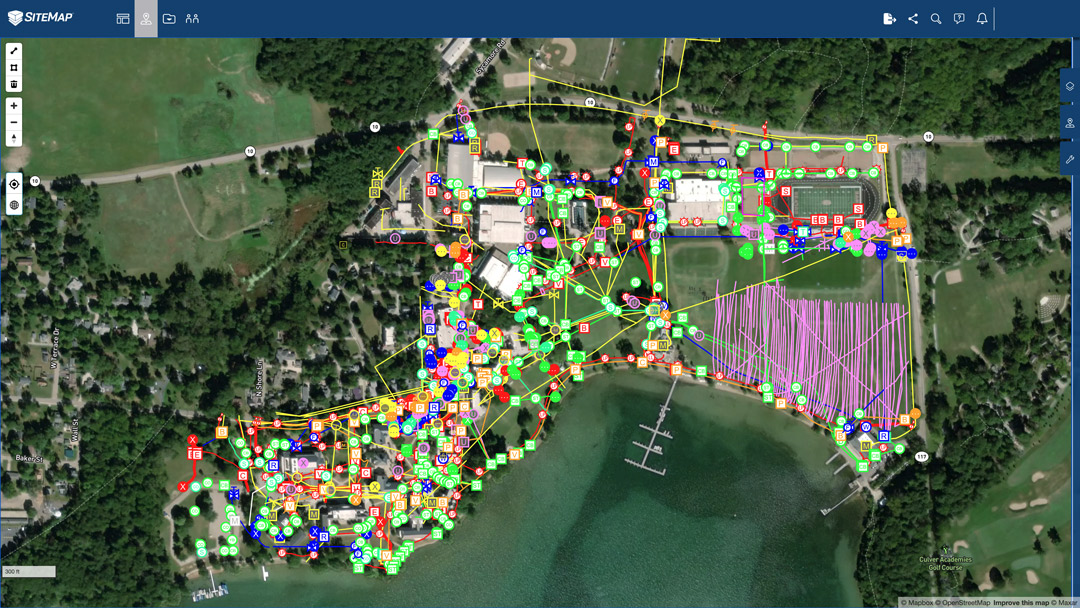 With such important factors at stake, it is crucial that these types of projects partner with evaluators who can ensure the most accurate data, maps, and models will be provided to facility managers and their teams so that they can properly plan according to their budget and desired project timelines. GPRS proudly maintains a 99.8% accuracy rate, and provides a number of state-of-the-art site evaluation services any municipality construction project would require, including…
Concrete Imaging
As many municipal projects are often aimed at renovating existing buildings and roads, they often deal with older concrete structures with out-of-date documentation. To help properly assess these structures, GPRS' expert consultants perform non-destructive concrete imaging services which go above and beyond the typical services provided. By utilizing modern evaluation capabilities, clients are provided with an in-depth assessment of the concrete structures present at their site, including key slab information, rebar and post-tension spacing and depth, concrete cover and overlay thickness, concrete thickness, and even dowel placement. These important evaluations are not limited by size, and our structural analysis methodologies have served a wide range of projects across commercial, residential, and industrial industries.
Video Pipe Inspection (VPI) Services
It is also crucial for any project to fully assess the state of all underground water systems beneath the given job site. The Video Pipe Investigation (VPI) services offered by GPRS utilize industry-leading CCTV cameras to perform fully comprehensive underground pipe inspection services. This inspection process is NASSCO certified, ensuring that all pipe defects and faults are properly identified. These inspections utilize modern surveying technology such as Robotic Crawlers (CCTV), Push Cameras, and Lateral Launch cameras to aid in cross bore prevention and mitigation, sewer and water inspections, lateral inspections, and manhole inspections. With these modern surveying technology capabilities, our certified evaluators are able to properly collect, map, and generate NASSCO certified VPI reports.
Utility Locating
Most municipality projects at some point require excavating, drilling, and/or boring. For this reason, GPRS's state-of-the-art utility locating services are necessary for any infrastructure repair and maintenance project. These fully comprehensive utility location methodologies provide projects with the most accurate, data-driven representation of actual site conditions, so that all subsurface utilities are properly accounted for.
This process can especially help identify any unexpected variations, renovations, and unknown or abandoned pipes by utilizing non-destructive, ground penetrating radar (GPR) and EM (electromagnetic) locators, among other equipment, to scan the subsurface of any given site for utilities. Through this important process, projects can avoid unexpected surprises that can arise after breaking ground by properly accounting for the precise location of water lines, gas lines, sanitary sewers, electric lines, and more to virtually eliminate the chances of costly utility strikes.
From these comprehensive evaluation methodologies, all raw data and reports can then be uploaded to SiteMap®, a modern infrastructure management software solution powered by GPRS. Within the SiteMap's Digital Plan Room, all necessary facility documents can be  securely uploaded to this collaborative-friendly, central repository. All necessary maps, models, photos, reports, or other as-built documentation can be easily uploaded and efficiently shared across multiple project teams so that all members are operating with the most up-to-date data files. Then, these files can be directly linked, cross-referenced, and fully visualized using SiteMap's Map Viewer . Inside the Map Viewer, fully comprehensive 3D maps and models of the entire project site can be rendered, integrating data from subsurface utility and void discoveries all the way to drone and aerial imaging evaluations. With these powerful capabilities, the Map Viewer is an essential tool for facility managers and their teams by saving them time and money, by improving overall communication across the project team.
What kind of project can we help you visualize? Learn more about how SiteMap®, powered by GPRS, can provide complete facility visualization and a unique digital tool to help you collaborate better than ever before by downloading our brochure, and contacting us for a quote today!