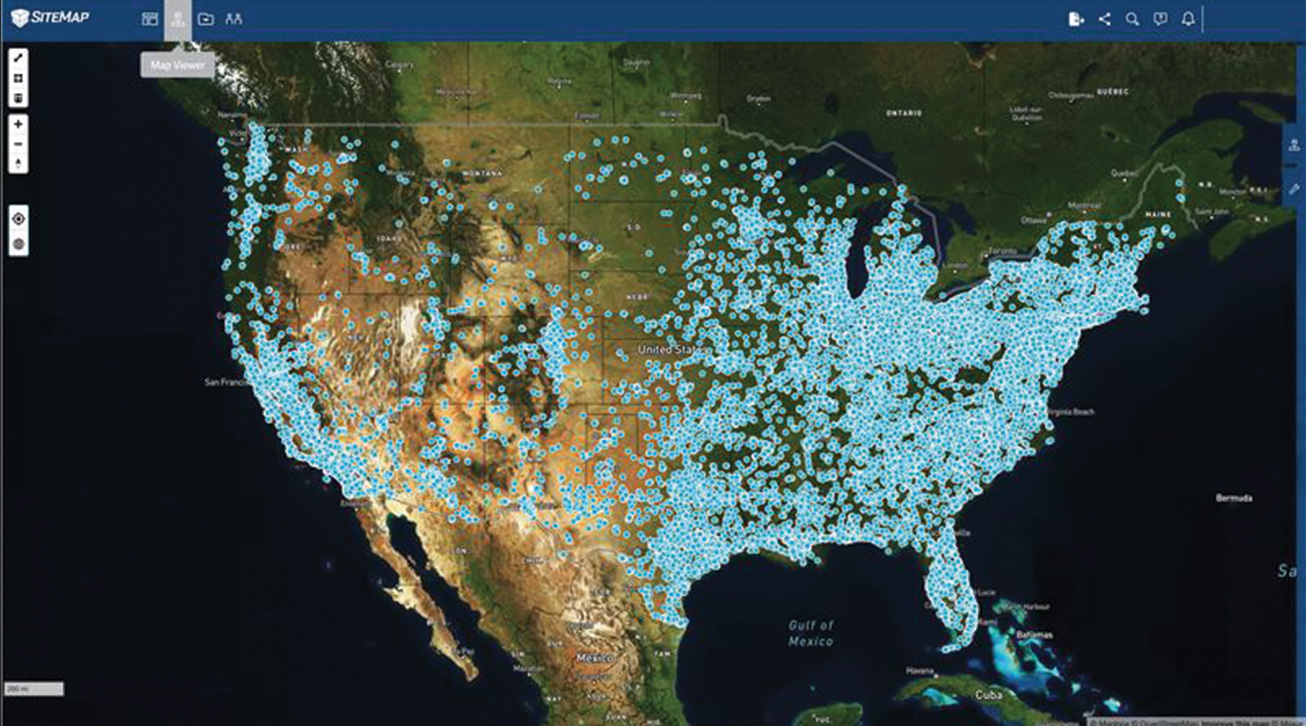 SiteMap®, powered by GPRS takes collaborative construction to the next level, providing accurate, 3D visualizations of your entire job site, both above and below ground, with the ability to update and share information across multiple teams in real time.
‍GIS (Geographic Information System) data storage platforms, specifically those that utilize cloud-based infrastructure, have supported modern construction projects significantly in recent years due to their advanced, efficient capabilities. As defined by the American Association for the Advancement of Science (AAAS), GIS technology is a "range of modern tools contributing to the geographic mapping and analysis of the Earth and human societies."
Geospatial data can help map individual buildings, features, and layers of your facility or campus, tying them together into fully visualized maps and models. This can be done first through GPS (Global Positioning System) technology to determine the site's precise positioning, and drones, or UAVs (Unmanned Aerial Vehicles), can capture aerial camera footage and property information from above. To go above and beyond other competitors in this space, GPRS Project Managers additionally use 3D laser scanning, utility locating, concrete imaging, and leak detection methodologies to compile accurate and fully comprehensive "actual as-builts," accounting for all your site's current features above and below ground.
The true power of GIS software is then seen when these data points are synthesized, rendering high resolution maps and 3D models. This allows facility managers and their teams to fully assess every site element separately, these elements as they spatially relate to each other, and the entire project site as a whole. Designed by geospatial industry leaders to provide the most innovative approach to GIS and infrastructure management software, SiteMap®, powered by GPRS takes collaborative construction the next level, providing accurate 3D visualizations of your entire job site, both above and below ground, with the ability to update and share information across multiple teams in real time.
There are major benefits for facility managers and their teams utilizing GIS software such as SiteMap®. These include…
‍Organizing All Subsurface Information in One Location
FINCH Brands recently polled 110 established facility managers, administrators, and directors within the construction industry. An overwhelming majority of those polled reported using at least four different locations to store their sites' subsurface utility data on average. Having more than one data storage location can cause significant confusion and miscommunication across teams. This is especially the case for larger, more complex projects. 
‍
In every case, SiteMap's advanced capabilities can support construction projects to stay organized by storing all important documentation in one secure location. From educational campuses to electric vehicle charging stations or even amusement parks, SiteMap®'s Digital Plan Room ensures that everyone working on a project or site has access to accurate and up-to-date as-builts, GIS maps and utility locates & inspection reports, and specifications in a secure cloud-based platform, preventing the loss of time caused by facility disorganization.
‍
‍Preventing Data and Documentation Inaccuracies 
Two-thirds of facility managers surveyed by FINCH reported that they have experienced significant damages during a project in the past five years. The majority of these damages reported were due to an accidental underground utility strike. These instances are seriously dangerous to workers and can cause massive outages in the surrounding communities of the project site. In total, each of these events can set a project timeline back months, and cost an average of $56,000 in additional costs. 
By ensuring you and your team are always working with the most accurate and up-to-date information stored in one place, SiteMap® allows facility managers to properly plan and work around all potential subsurface hazards before ever breaking ground.
‍Streamlined Communication and Collaboration 
SiteMap® 's advanced Map Viewer feature project and facility managers can easily flag and communicate key GPRS utility scans and plan documents to new contractors on a project. By tagging and referencing data in an easy, streamlined way, searchable maps and 3D models can be generated and easily shared across teams and external partners. This collaboration among team members allows everyone to access the latest documentation and high resolution visualizations of the project site.
Learn more about how SiteMap®, powered by GPRS, completely redefines collaboration. Our services help facility managers and their teams eliminate change orders, work stoppages, damages, and cost overruns. Visit our official SiteMap® website, download our brochures, and contact us for a quote today!