GPRS Utility Locating Services ensure that onsite mapping of buried utilities is comprehensive and accurate before storing and modeling interactive maps on the SiteMap® platform. While the One Call system (811) marks publicly-owned utilities, almost any construction project will also involve some privately owned utilities. GPRS identifies both public and private utilities below the surface of your site, which helps prevent line strikes and costly outage delays. The data can then be easily stored, mapped, modeled, and shared on SiteMap®. This detailed level of evaluation is critical to prevent line strikes and maximize onsite safety, allowing facility managers and their teams redefine collaboration.
GPRS uses industry leading SIM methodology to locate and note the depth of underground utilities, as well as their spatial relation to each other, none of which are noted on conventional blueprints or public utility mapping. Interactive SiteMap® models can then show as-built (vs. as-intended on original blueprints) features in relation to each other, which captures any structural or environmental changes to the original design.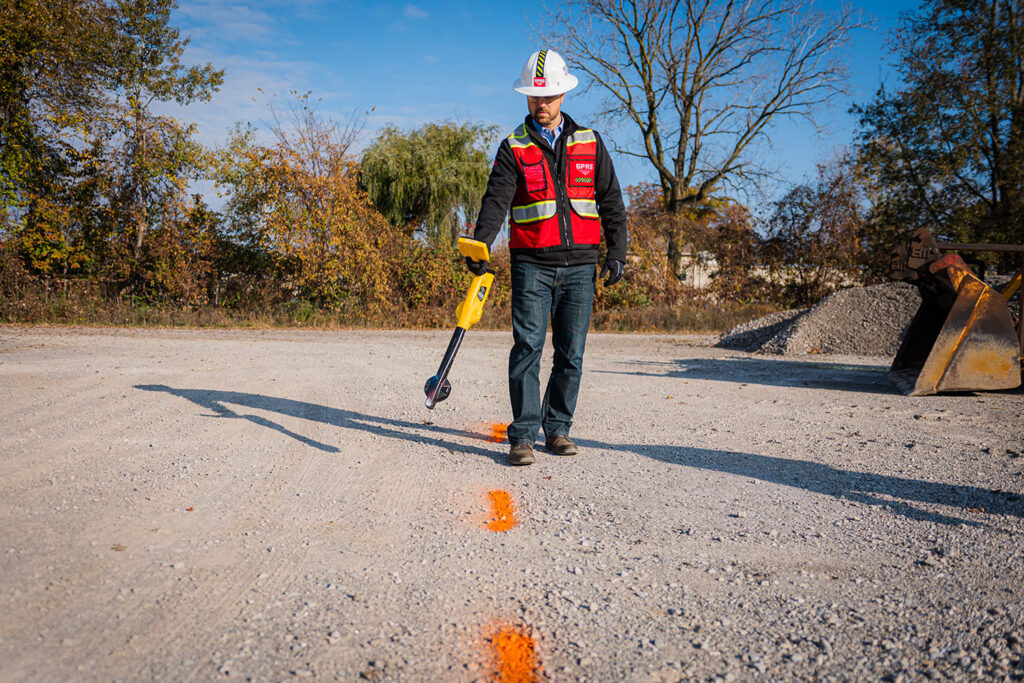 GPRS utility locating services can identify a large range of underground obstructions, including water, gas, electric and communication lines, sanitary and storm sewer pipes, and underground storage tanks (USTs).
GPRS utility locating services can identify a large range of underground obstructions including…
‍Water Lines
In addition to locating underground water systems, GPRS also offers a comprehensive line of Leak Detection Services for facilities and municipalities, performed by our water loss prevention specialists.
‍Gas Lines
GPRS crews are experts in locating & mapping pipelines, LNG terminals, AMINE facilities, and compressor stations for the oil & gas industry.‍
Sanitary Sewer
Sanitary sewer pipes span long distances and are necessary utilities in every facility and municipality across the United States, making it imperative to map their locations as well as any line crossings to slow or eliminate the spill of untreated water into water systems. GPRS utility locating is enhanced by our robotic video pipe cameras and push cameras. These comprehensive mapping services ensure that even hard-to-locate elements will not be missed.‍
Storm Sewer
Storm sewers are another utility that cross nearly every site. GPRS's Video Pipe Inspection can investigate the functionality of these systems to locate defects and cross bores that can cause seepage, flooding, and sinkholes.
Electric Lines
While all utility line strikes are damaging, unmarked and buried electric lines pose immediate risk to workers who are excavating a construction site, and can cause a loss of service to entire cities. At GPRS, safety and accident prevention are our top priorities, and properly locating all electric lines helps to prevent worker injury.‍
Communication Lines
Telecommunications lines have continued to evolve over time, and demand remains high for upgrading high-rise buildings, stadiums, schools, and other facilities with Distributed Antenna Systems and enhanced mobile 5G infrastructure. Sophisticated utility geolocating is necessary to prevent risk when workers are cutting and coring through concrete or excavating a site. GPRS is the trusted leader for damage prevention in the power industry, and SiteMap®'s Digital Plan Room allows all team members to visualize the precise location of telecom lines in all phases of a project. Download our Telecommunications brochure here.‍
Underground Storage Tanks
Underground storage tank systems include a tank and any underground piping connected to the tank that has at least 10% of its volume underground and, prior to the 1980s, most USTs were made out of bare steel which corrodes over time. It is critical to locate and assess any onsite USTs for leaks as part of an Environmental Site Assessment, both to reduce soil and groundwater contaminants and to report hazards to the Environmental Protection Agency if necessary. GPRS experts can help locate recognized environmental conditions (RECs) such as leaking underground storage tanks (LUSTs) as part of the due diligence process for real estate transactions.
Unknown or Abandoned Pipes
There is always a chance that abandoned or unknown pipes are buried beneath a construction site, making excavation more complicated. GPRS 3D Laser Scanning Services offer a clear layout of impediments both above and below ground, so workers know the precise location of any pipes which were previously unaccounted for.
Utility Detection Services are critical to preventing subsurface damage, which can quickly devastate a construction site or facility; and for each utility locating job, GPRS offers free PDF and .KMZ maps of the site or facility.
Once GPRS has fully scanned and rendered the facility, including private and public utilities,  this data can then be uploaded and accessed via SiteMap® . Within SiteMap®, as-built geospatial images of the facility are safely stored and easily referenced within the Digital Plan Room feature, and can be fully mapped and modeled with accurate detail using the Map Viewer feature.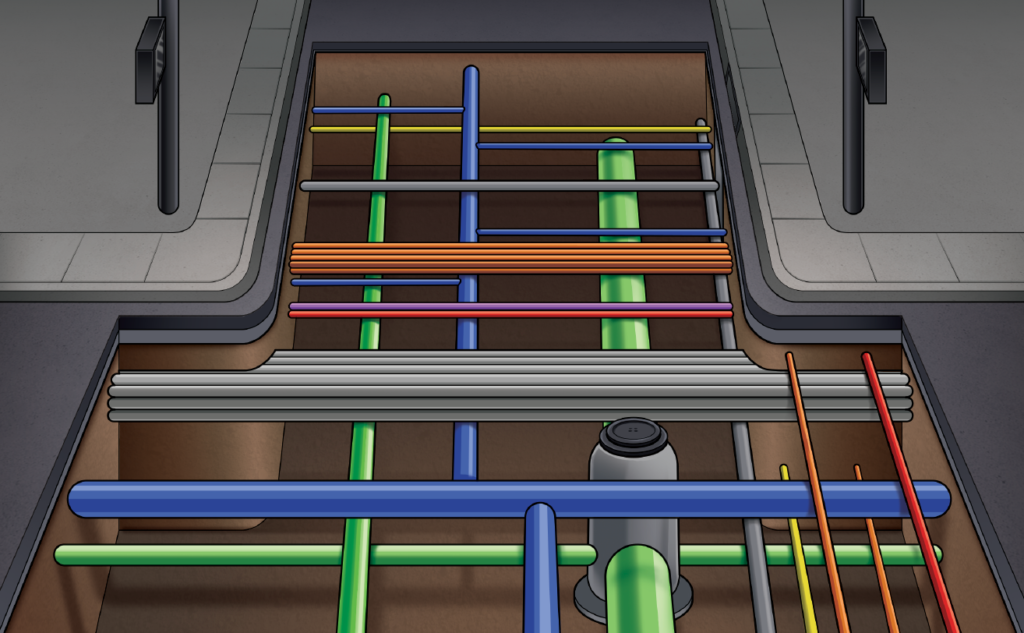 Once GPRS has fully scanned and rendered a facility, including private and public utilities, this data can then be uploaded and accessed via our new SiteMap facility management platform.
The three Best Practices for teams collaborating on scanned private utility data include:
Store All Subsurface Information in the Same Secure Location
FINCH polled 110 established facility managers, administrators, and directors within the construction industry, who reported that their sites' subsurface utility data is being stored at four different locations on average. SiteMap®'s Digital Plan Room ensures that everyone working on a project or site has access to as-builts, GIS maps and utility locates & inspection reports, and specifications in a secure cloud-based platform, preventing the loss of time caused by facility disorganization.
Designate Reference Documents
Using the SiteMap® searchable Maps and 3D Model viewer, project and facility managers can easily flag and communicate key GPRS utility scans and plan documents to new contractors on a project. This collaboration among team members allows everyone to access the latest documentation on the facility, including utility inspection reports and updated maintenance data. The SiteMap® platform conveniently organizes historical drawings, site photos, drone footage, and digitized blueprints to keep all site information in one central repository for everyone to access.
Prevent Outages due to Underground Utility Strike
‍Of the 110 Facility Managers surveyed by FINCH, two-thirds had experienced damages during a project in the past five years; the majority of these were due to an underground utility strike. Each of these events can result in months of downtime, as well as an average of $56,000 in cost. GPRS also keeps your crew safe from subsurface hazards at your site.
What do SiteMap®'s Maps and Models, powered by GPRS, Look Like?
GPRS goes above and beyond the capability of a traditional GIS platform to Visualize the Built World™. Our technology compiles 3D laser scanning, public and private utility locating, and concrete scanning with high-resolution satellite imaging to create as-built geospatial images in SiteMap®'s Map Viewer. This technology allows SiteMap® to provide views above and below ground that capture structural or environmental changes to the original structure and design plan. SiteMap® clients also have access to 3D or Augmented Reality (AR) facility tours using GIS technology, and it also offers essential risk prevention through locating the position of pipes and underground utility layouts.
Two case studies at the University of Toledo and Culver Academy demonstrate SiteMap®'s product offerings, and a number of 2D, 3D laser scanning, and GPR advanced examples are available on the GPRS website.
You can learn more about how private utility data and other services are mapped and modeled on our GPRS website. With SiteMap®, powered by GPRS, you can ensure your team is empowered with all the necessary digital tools they need to successfully execute any project.
Learn more about how SiteMap® can help you and your team collaborate better and share comprehensive data about your construction site or facility with everyone involved in the project. Download our brochure, and contact us for a quote today!