3D laser scanning capabilities have significantly modernized in recent years, allowing facility managers, engineers, and their teams to work more efficiently with the most accurate data.
SiteMap®, powered by GPRS, provides 3D laser scanning, mapping, and modeling services using modern GPRS/TruePoint 3D Laser Scanning technology. These services are applicable across a wide range of industries, improving measurement quality and accuracy, expediting communication, reducing manual labor, and minimizing unnecessary costs and change orders.
Through TruePoint Laser Scanning, a GPRS company, we help facility managers fully Visualize The Built World™ both above and below ground. Once all necessary 3D laser scan data is collected, it can then be securely stored and viewed using SiteMap®'s Map Viewer and Digital Plan Room features. Not only is the 3D laser scanning  approach highly accurate and efficient, its deliverables are also easily customizable to meet any project's needs.
With the state-of-the-art geographical mapping and modeling capabilities unique to SiteMap®'s modern software, no project is too big or complex. Whatever innovative designs you need to visualize, we're here to help provide you with the most accurate digital tools you need for success.
GPRS is  pleased to provide the following customizable 3D laser scanning solutions for all your project's needs…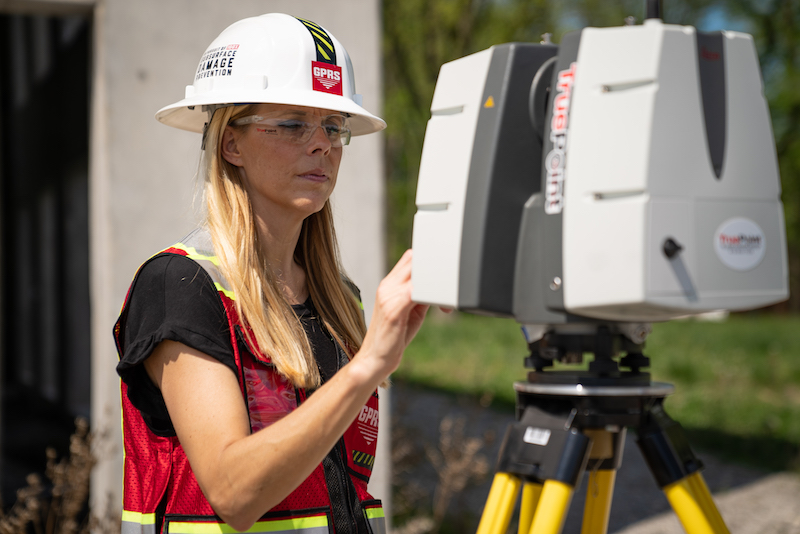 Through TruePoint Laser Scanning, a GPRS company, we help facility managers fully Visualize The Built WorldTM both above and beyond the ground.
Raw Point Cloud Data
A point cloud is a data set generated from millions of 3D data points captured by a laser scanner. This contains the X, Y, and Z coordinates of every visible detail within a scanned site including a variety of objects such as doors, windows, walls, steel structures, and ductwork. Point cloud data can be imported into CAD software to then visualize the area, providing a pixelated, digital version of your site. From there, this data can be parsed, manipulated, and modified to suit a user's needs. Deliverables for this option include PTG point cloud files and Autodesk Recap files in .RCS and .RCP format.
2D CAD Drawings
Once point cloud data is imported into AutoCAD software, 2D CAD drawings can be generated which can map out floor plans, sections, and elevations for construction planning and building modifications. Deliverables for this option include 2D sheets in .RVT, .DWG or DGN formats.
TruViews
TruView is software designed specifically to provide shareable, more intuitive point clouds, design models, and mark-ups. Essentially, TruViews are three-dimensional photographs overlaid on top of point cloud data. Since they are overlaid on the scanned data, clients can easily measure basic dimensions directly from the photograph to estimate clearances, distances, etc. Such data can be very useful for those who have not visited the site or those who have but need to recall more specific details of a particular area.  Deliverables, made accessible via TruView portable software, for this option include the LGS format of the point cloud published by GPRS, as well as overlay IFC (3D Model) files.
3D Virtual Tour From Point Cloud
3D virtual tours are composed of panoramic rotating images which have been "stitched" together (rectified) to provide a full, 360-degree view of a given location. This can allow your team and those you collaborate with to virtually tour the location, add digital notes, and even measure inside the virtual space. Deliverables for this option include a customizable MP4 video file format flythrough or point cloud flythrough from Recap, which can be viewed with user-friendly devices such as desktop computers, laptops, tablets, and even mobile devices.
3D BIM Models
The GPRS/TruePoint team are experts at converting point clouds into 3D BIM models. These models provide a geometrically accurate representation of any building or site, capturing important spatial relationships, infrastructure, and manufacturer details. 3D BIM models allow users to take a closer look at specific building parts and see how they fit into a single finalized structure, isolating walls, columns, windows, doors, etc., and altering the design as-needed. Deliverables for this option include 3D BIM Model in various software such as Revit, AutoCAD, Microstation, Solidworks, Navisworks.
‍
3D Mesh
A 3D mesh file can be created from a point cloud by GPRS/TruePoint's team of CAD technicians using the data set of x-y-z coordinates to create triangulated mesh from the 3D points. These meshes are volumetrically accurate and high-resolution, allowing clients to view the object's geometry inside a CAD environment without having to navigate a point cloud. Deliverables for this option include 3D mesh in .FBX, .STL, .OBJ, and .PLY file formats.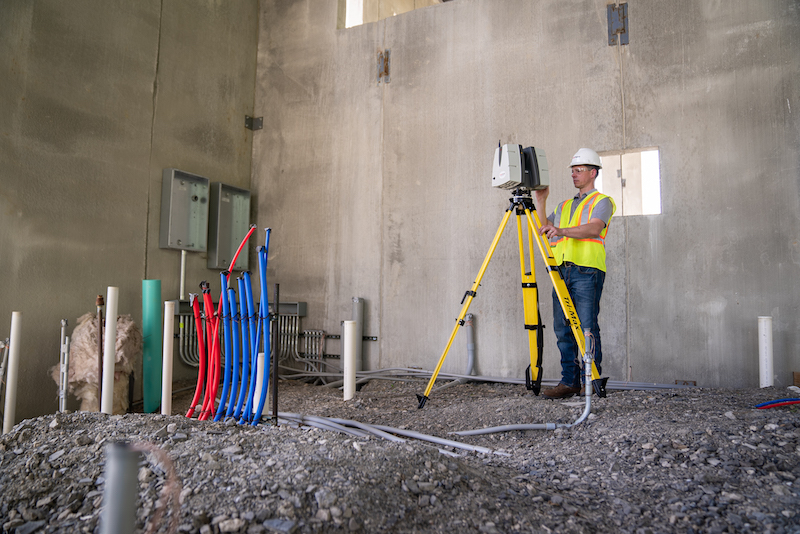 3D laser scan data collected by GPRS/TruePoint can be uploaded and effortlessly shared on our new SiteMap facility management platform.
SiteMap®, powered by GPRS, greatly improves the communication and safety on any project so you and your team can collaborate better by providing the clear, comprehensive, and high-resolution maps and models your project needs. Our services will help you Visualize The Built World™ using an easy, streamlined approach.
Learn more about how SiteMap®, powered by GPRS, can provide complete facility visualization and a unique digital tool to help you collaborate better. Download our brochure, and contact us for a quote today!