Municipal workers are the backbone of a community.
The duties of municipal workers vary greatly, from accounting and permit processing, to law enforcement and emergency response. Municipal workers visit all corners of their communities to service residents and businesses in a variety of ways.
Municipal workers keep their communities running, often performing essential, hands-on responsibilities such as sanitation, tree cutting around power lines, road maintenance, park and playground maintenance, landscaping, planning and zoning, and more. These workers maintain, beautify, and protect their communities – but the risks associated with the tasks they perform make it vital that their safety is at the forefront of all decision making.
For municipal workers who must dig below the ground, hazards can potentially arise in relation to subsurface utilities and structures. Subsurface utility mapping using SiteMap®, powered by GPRS, mitigates these risks to not only the workers, but to the communities they serve.
Underground Utility Mapping: Where are They, and How Do We Mark Them?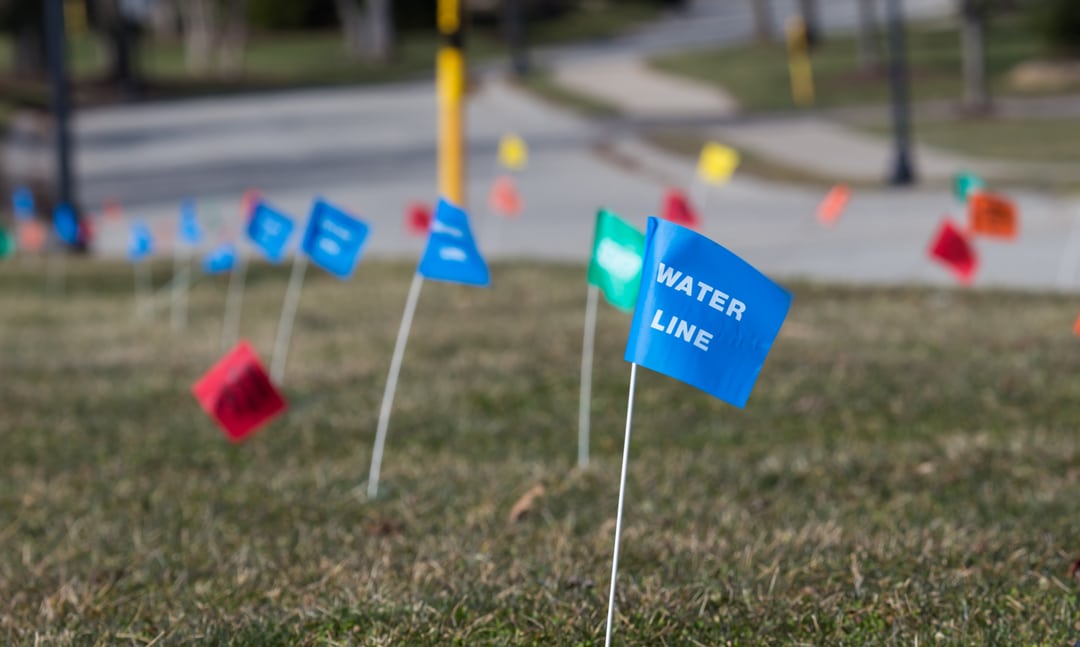 Underground utilities lie at various depths; some are as shallow as two feet, while other larger pipelines for water and sewage sit three or more feet below ground. GPRS' utility scanning and locating tools work together harmoniously, combining the talents of a multi-view scanner [Vivax-Metrotech Vloc3 PRO Receiver], lightweight, portable concrete scanning equipment [StructureScan Mini XT], and handheld ground-penetrating radar [Geode Real-Time Sub-Meter GPS Receiver] with superior battery life for mapping utilities in the field at various depth levels.
Once located through underground scanning & mapping services, utilities can be marked with color-coded flags, and/or spray-painted lines and abbreviations. The lines signify not only the perimeter of a digging area, but the exact location of utilities, and can even provide the depths at which the utility is buried. It is up to the municipal worker to know and respect the local regulation regarding distance they must maintain from utility markings when digging or constructing. By knowing the assigned colors, municipal workers can be aware of the types of utilities buried below, ensuring that lines and pipes are not punctured. Call Before You Dig explains the color coding, which is mandated by the American Public Works Association (APWA):
White: Pre-marking of the outer limits of the proposed excavation or marking the centerline and width of proposed lineal installations of buried facilities.
Pink: Temporary survey markings.
Red: Electric power lines, cables or conduit, and lighting cables.
Yellow: Gas, oil, steam, petroleum, or gaseous materials.
Orange: Communication, alarm or signal lines, cables or conduits, and fiber.
Blue: Potable water.
Purple: Slurry, irrigation and reclaimed water.
Green: Sewers, drainage facilities or other drain lines.
The consequences of utility mapping inaccuracies or skipped protocols can be dire for municipal workers whose role requires subsurface activity. Not only can a ruptured sewer pipe or severed electrical line result in severe injury or death, but an incident like this can also cause significant power outages and other environmental issues. In addition, these incidents may lead to a decreased workforce, as workers become dissatisfied or fearful of injury from improperly handled subsurface digging.
Utility mapping and visualization software like SiteMap® provides an educated set of eyes below the surface, both preventing these mishaps and storing the utility data for future use.
Building Utility Mapping Awareness and Further a Sense of Community
At GPRS, we are constantly seeking ways to partner with communities and keep them safe. We also believe that to sustain safe utility mapping, we must invest in the proper training of new professionals. Currently, we are providing our 99.8% accurate utility mapping services to the University of Toledo. The campus receives accurate data for all their subsurface utilities and structures, combined into the geospatial SiteMap® Map Viewer, which illustrates these utilities in relation to each other. Additionally, the SiteMap® service is cloud-based, so campus professionals such as facility managers, project managers, and construction workers with the proper credentials can access the data anytime, from virtually anywhere.
In exchange for these services, GPRS Project Managers step out of classroom theory and into a real-world environment for vital hands-on field training.
"We have this pretty unique partnership with the University of Toledo," explained GPRS Field Support Training Specialist, Evan Soto. "They're essentially letting us use the campus as a training ground so we can do different scenarios. And in the process, we're helping them to locate and map all their underground utilities throughout the entire campus. So, it's really cool because we can bring each new training class out here, take them to different areas of the campus, locate, collect it with GPS, (and) put it on a map."
Prior to this partnership, the University of Toledo had not used an external utility locating and mapping service. Then a gas pipeline was damaged during a construction project, shutting down numerous campus buildings. Now, with the clarity and level of detail provided by SiteMap® and GPRS, the staff at UToledo can confidently maintain campus grounds and utilities.
This knowledge allows campus and local municipality workers to safely navigate subsurface projects with precision and confidence.
A combination of utility mapping technology, community involvement and training, and compliance with safe digging laws is the recipe for keeping municipal workers safe on the job. When they can perform their roles confidently and improve the town around them, this layer of subsurface safety is multiplied across the residents they serve and the surrounding environment.
Contact GPRS today to learn more about SiteMap® as well as our other infrastructure visualization services.