As a facility manager, engineer, or project manager, making crucial decisions is a daily task. It is important to have accurate information so you can make the best of each project. As a new or existing GPRS customer, you can have access to a complimentary SiteMap® Personal subscription. This subscription will allow you to securely share exactly what your contractors need to see, exactly when they need to see it. You can designate what areas and which data layers they can access, and you can remove their access when the job is done.
Here's How To Get Your Free Subscription
Getting your free subscription is easy for new or existing GPRS customers. To start we will be including the Personal Subscription as part of every full-site visualization and locate we provide. Your first step is to talk to your GPRS Business Development Manager or request a quote. Once you submit your form, they'll reach out to you with the next steps. Then you can set up your account and start using your free subscription to its fullest potential.
As a GPRS customer, you will have access to an industry-leading tool. Your complimentary SiteMap® subscription opens the door to valuable technology and resources helping you optimize your construction process and achieve outstanding results. Let's take a look at what's inside your subscription.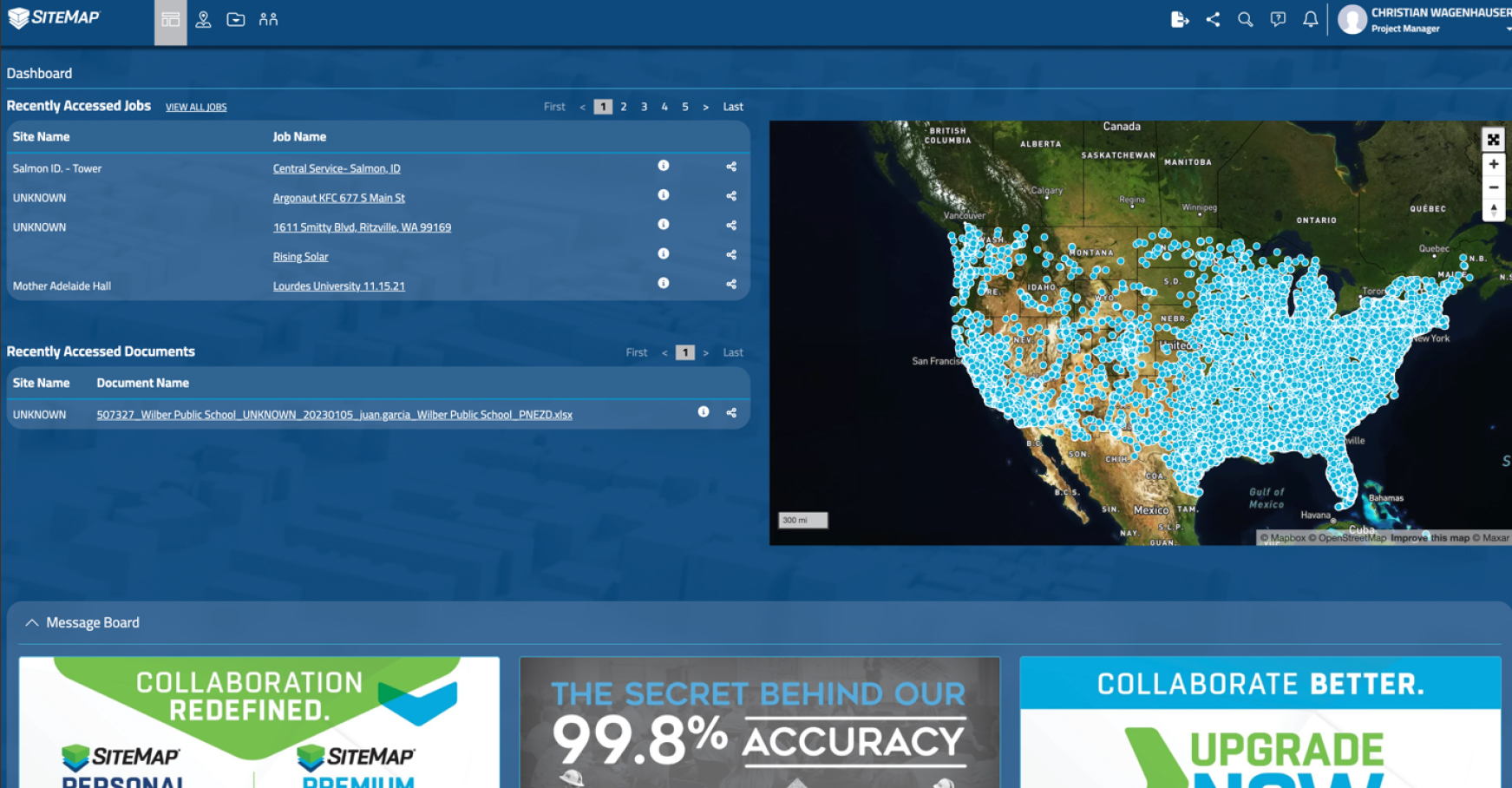 What You Get With Your Free Personal SiteMap® Subscription
With your subscription, you control your data. Only you can provide your GC's access to the powerful Digital Plan Room. This serves as a centralized hub for all site data that give easy access to everyone on the project. This hub allows for the easy viewing of relevant site data like 3D laser scanning point clouds and models. It also includes subsurface utility mapping information which is geolocated and layered so you can see only what you need to see when you need to see it. With all this, your subcontractors can assess site conditions and make more informed decisions. Having all this information in one place saves valuable time and reduces the risk of errors.
Another key benefit is the detailed maps of underground utilities. With subsurface utility mapping at the ready, contractors can work with more confidence. They will know exactly where and how to find and avoid underground utilities when they dig. This is crucial for avoiding potential hazards. This information is also critical in determining the feasibility of proposed construction activities. It also assists in planning for the safe excavation and upgrading of underground utilities. All this data in one convenient place helps contractors work with greater efficiency.
SiteMap®'s Digital Plan Room allows contractors to also view and download project plans and specifications. This streamlines the entire process and ensures all parties have the same information. The Map Viewer allows for the easy visualization of job sites. Each of your projects has its own map pin that links directly to your data. You can share your site information via the Map Viewer or the Digital Plan Room to identify potential issues before they arise. The Map Viewer also enables users to overlay many layers of data at once. And you can see it in relation to the footprint of the project and other site features.
Furthermore, SiteMap® offers access to GPRS Mapping and Modeling services. The data collected by 3D laser scanning, Video Pipe Inspection, and subsurface utility locating can be turned into CAD drawings, layered maps, and detailed models, depending on your needs. These services are crucial for locating underground utilities and other subsurface features. With this state-of-the-art design, you and your contractors can be confident about the site's conditions above and below ground. This can help prevent costly and dangerous mistakes during excavation and construction. SiteMap® 's utility mapping services have a comprehensive glossary of terms as well. This helps contractors understand the symbols used to mark underground utilities. Now everyone on the team will know how to read utility markings.
One of the key benefits of SiteMap® is its support of Lean Construction principles. Lean Construction is an approach that minimizes waste and maximizes value. This happens by providing real-time access to accurate site data. This helps contractors and stakeholders share accountability by giving them the data tools they need. With SiteMap®, your contractors can get access to the most up-to-date information, fast. In fact, utility location data is usually available in SiteMap® within five minutes from the completion of the locating job. This allows for better decisions about scheduling, resource allocation, and other key factors.
Besides the benefits already outlined, there are many other advantages for GPRS customers. One of the main advantages is how SiteMap's intuitive interface makes it easy to navigate. Even for users with little or no experience in construction or engineering. This means that you and your contractors can start using the platform right away. There is no need for extensive training or technical support. SiteMap® is a comprehensive suite of tools and features and it helps you  streamline collaboration in the construction process to improve project outcomes.
Moreover, SiteMap® provides real-time access to project data. As previously mentioned, for utility locating, your data is often available within minutes of your GPRS Project Manager's job completion. This means that your contractors can view and analyze site data right away. This removes the need to wait for reports or updates and allows for timely intervention and resolution.
To add to its robust features, SiteMap® is very customizable. Users can choose which data layers to display and how to view them. They can choose based on their specific needs and preferences. This makes it easy to focus on the most important information. Users can tailor the platform to the unique requirements of each project.
Another advantage of SiteMap® is its compatibility. You can access it on a wide range of devices and operating systems. Contractors can use their desktop computer, laptop, tablet, or smartphone to log in. Regardless of their location or device type, they can access everything they need. Your GC's can stay connected and informed no matter where they are.
‍
Get The Industry-Leading Advantage With SiteMap®
SiteMap's design comes with the expertise and support of GPRS. GPRS is a leading provider of subsurface utility mapping and related services. They come with a stellar track record of success in the industry. Contractors can trust the accuracy and reliability of the data provided by SiteMap®. They can also rely on the support and guidance of the GPRS team to help make sure your crews make it home safely every night. Because in the end, that's what matters most.
What can we help you visualize? Contact your GPRS Business Development Manager today to learn how you can get your complimentary SiteMap® subscription.