The restaurant and retail industries are continually upgrading and updating their facilities in response to trends like eCommerce and curbside pickup. These renovations and upgrades often require excavation, or concrete cutting and coring. GPRS locates, maps and models can ensure accuracy and prevent damage during the renovation of shopping/retail facilities, restaurants, warehouses, and private offices.
Interior renovation projects for these industries frequently involve rerouting utility lines, installing drive thru lanes, and, due to an increased focus on renewable energy sources at these sites, placing electric vehicle (EV) charging stations. GPRS' core commitment to 100% Subsurface Damage Prevention through Visualizing the Built World™ can help prevent risk to your project, whether breaking new ground or repurposing existing sites.
The consistent trend in upgrading and updating facilities in the commercial and retail spaces continues and increases demand for accurate as-built utility locates and drawings. SiteMap® stores as-built geospatial images of any facility for quick reference in the Digital Plan Room feature, and can be mapped and modeled with accurate detail using the Map Viewer feature.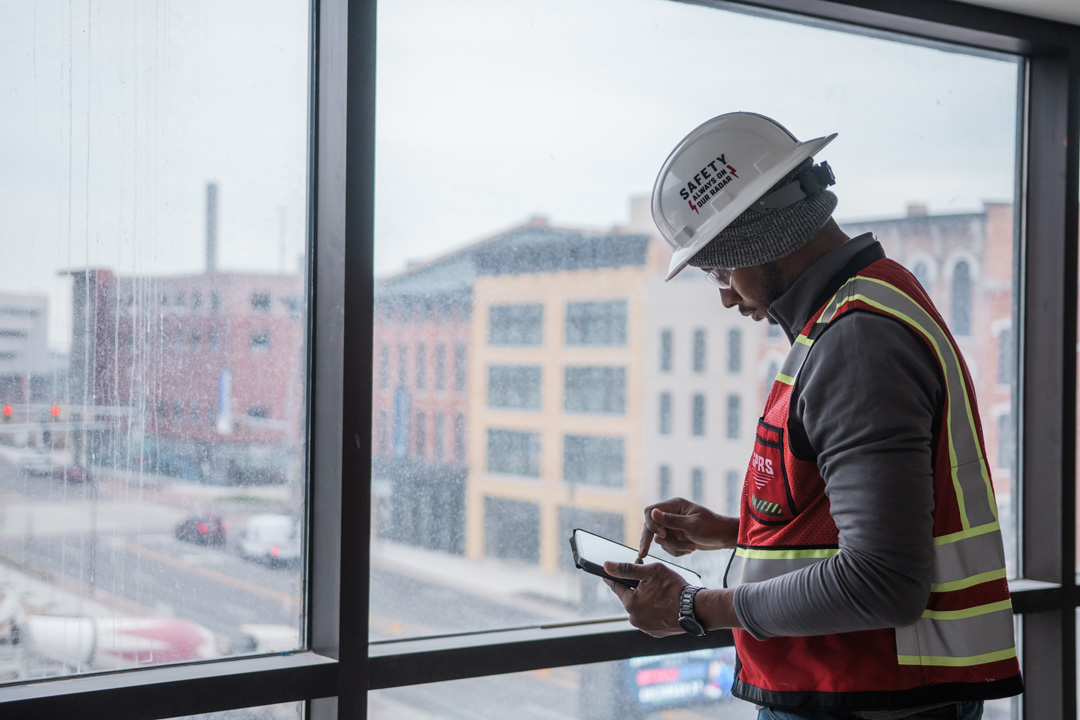 GPRS utility locates, maps and models can ensure accuracy and prevent damage during the renovation of shopping/retail facilities, restaurants, warehouses, and private offices.
Some of the restaurant and retail projects that GPRS has consulted on include…
Adaptive Reuse Projects
Adaptive reuse projects involve repurposing vacant box stores, private offices, or strip malls. Adapting these sites requires precise private utility locating and mapping to prevent underground line strikes. GPRS experts also have experience in identifying recognized environmental conditions (RECs) as part of the due diligence process for real estate transactions, which are important for remodeling commercial spaces.
Rerouting Utility Lines
Whether you are renovating an existing site or breaking ground on new construction, almost any project involves privately owned utilities in addition to publicly-owned utility lines. Prior to rerouting water, sewer and electric lines for retail and restaurant remodels – which require saw cutting or coring – it is critical that these utilities are located: public lines by One Call (811) and private by GPRS, and clearly marked so they can be mapped and housed on SiteMap®.
Upgrades for Energy Efficiency and Customer Convenience
Restaurant and retail upgrades require an increased focus on renewable energy in the form of electric vehicle (EV) charging stations. Additionally, many leading restaurants are upgrading their drive-thru experience by installing canopies, new signage, and curbside pickup options. These updates require coring through existing concrete structure, which is simplified with GPRS' concrete scanning technology.
GPRS' mapping and modeling services use sophisticated GIS technology to create crisp, comprehensive images that will increase your confidence with any of these remodeling priorities.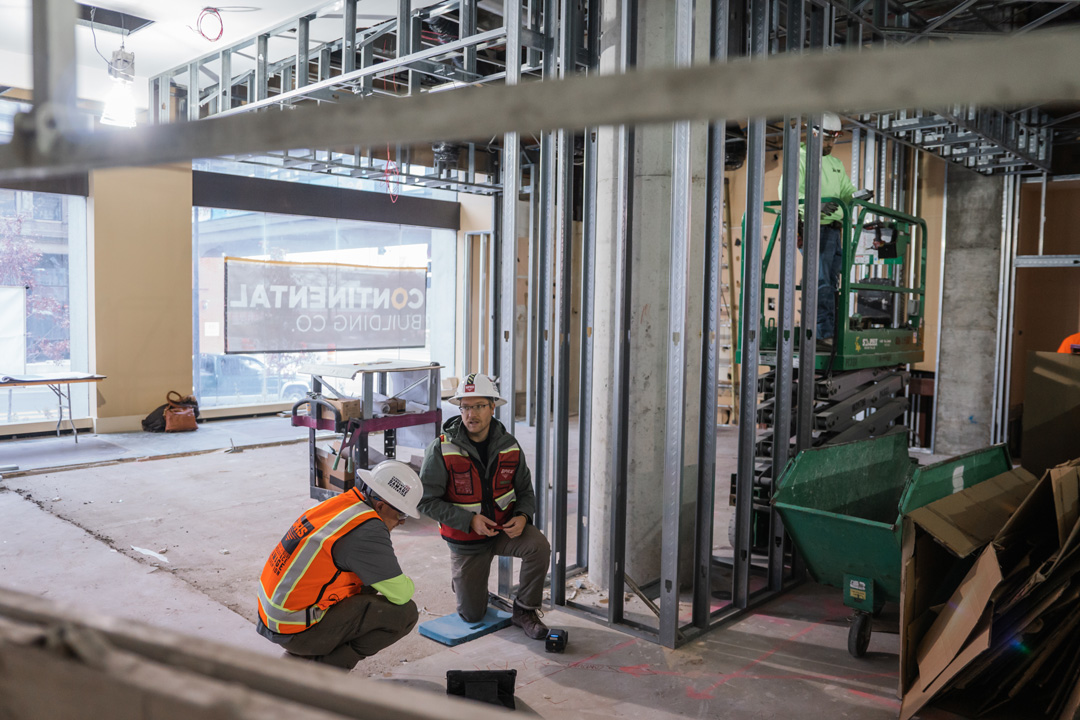 GPRS' nationwide team of Project Managers offer both concrete scanning and utility locating assistance for projects that span dozens or even hundreds of sites.
Five key ways that SiteMap®'s GIS technology can help support the retail and restaurant industry include…
Consistent Method for Nationwide Contracts
Due to our nationwide service range, GPRS is uniquely positioned to offer both concrete scanning and utility locating assistance for projects that span dozens or even hundreds of sites. Our Standard of Practice, Subsurface Investigation Methodology (SIM), ensures that when your projects span across the US, you can expect the same repeatable quality when we perform concrete scanning, utility locating, and video pipe inspection.
Combined Technology for Greater Accuracy
In addition to consistent training, GPRS's unique Subsurface Investigation Methodology (SIM) achieves 99.8% accuracy because it combines two main forms of technology: the standard pipe locator, and ground penetrating radar (GPR). The two technologies used in conjunction can more accurately confirm depth and horizontal/vertical location of a subsurface element, either in utility locating or concrete scanning applications.
As-Built Visualization, Both Above and Below Ground
GPRS and interactive SiteMap® models can help you Visualize the Built World™ with as-built (vs. as-intended, original blueprints) geospatial models of every inch of your facility. Drawings that are produced in the design phase of a project don't always reflect the exact location of underground utilities and over time, due to renovations and additions, as-built drawings become out of date. GPRS maps & models capture any structural or environmental changes to the original design, and can be accessed by all team members on a SiteMap®.
Easily Accessible and Detailed Reports, Maps & Models
Once our comprehensive locating, measuring, and mapping process is completed, a clear visualization and even 3D models and tours can be rendered, stored,and securely shared using SiteMap®, powered by GPRS. All raw data and documents can be easily referenced in our Digital Plan Room, while any maps and models from these uploaded documents can be viewed and shared with all engineers, designers, and contractors in our Map Viewer. This collaboration allows everyone to access the latest documentation on the facility, and the SiteMap® platform conveniently organizes site photos, inspection reports, aerial footage, and digitized blueprints to keep all site information in one central repository for everyone to access.
Green Box Guarantee Offers 100% Obstruction-Free Concrete
GPRS' Green Box Guarantee increases our clients' level of confidence in coring or anchoring concrete. If a GPRS Project Manager places a green box on your project, they are indicating that that area is completely free of obstructions. In fact, we are so confident in our methodologies for locating, mapping, and modeling all subsurface obstructions and how they relate spatially to each other that if a Green Box certified area is not 100% obstruction-free, GPRS will pay the cost of all resulting damage.
At SiteMap® powered by GPRS, we partner with those who aim to Visualize The Built World™ by providing them with accurate representations of their entire site, both above and below ground. Learn more about how SiteMap® can save your project time and money while providing the most accurate results by downloading our brochure, and contacting us for a quote today!