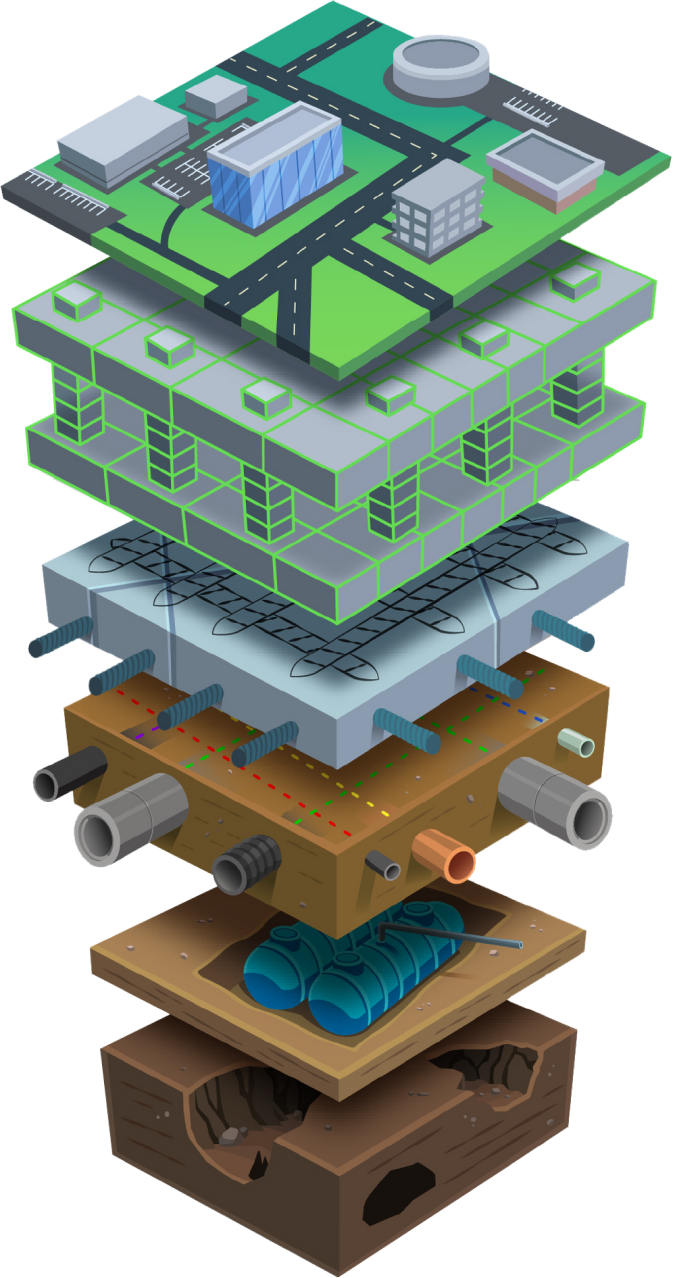 SiteMap, powered by GPRS, allows facility managers to view underground utility networks and hidden construction, reduce engineering risks, and build a 3D map to aid surface and subsurface construction projects.
For complex campuses across the nation, utility locating remains a challenge even in the wake of improved ground penetrating radar and utility locating techniques. These infrastructures typically require multiple projects to detect and mark each underground utility thoroughly and accurately. Data collection in construction is complicated—often vital information is stored in multiple places, including a single facility manager's own head. SiteMap reduces the complexity of data collection and maintenance while improving collaboration across teams.
SiteMap, a utility mapping solution, is designed to simplify asset management of above ground and underground utilities, reduce inefficiencies, and increase public safety and safety of personnel. Here are five advantages of implementing SiteMap for your campus:
Experience Data Differently
Data collection in the construction industry has been an archaic process for far too long, involving poor quality information, inaccurate drawings, or no records at all. SiteMap moves your critical utility infrastructure data from paper to digital—making it easy to collect high quality, accurate data into an accessible asset management. This geospatial solution also acts as an all-inclusive digital storage space for blueprints, as-built drawings, maintenance logs, permits, and more, allowing users to look at subsurface data in a way that hasn't been previously available—and all on-demand. SiteMap provides a unified view of all users' information, whether they have one building or multiple facilities across the United States.
Scalability
Location data for large, complex campuses is often fragmented and limited by the size or age of the paper it lives on, making it difficult to scale any sort of organized geographic information system. SiteMap's Map Viewer technology allows civil engineers and facility managers to look at what artifacts relate to a specific geolocation in real time via viewable, searchable maps, 3D modeling viewer, and tag site features. SiteMap houses every piece of information—historic and current—so the content can be located and cross-referenced on demand. The system can grow along with the user as more information becomes available.
Empowered Communication & Collaboration
Poor communication and transfer of information is a major cause of friction and delays in construction projects, as inboxes can become cluttered with attachments and files when trying to organize information for excavation work.
With SiteMap, sharing information regarding underground assets and utility infrastructure with those who need it most—construction firms, stakeholders, surveyors—has never been easier. And not just by the person at their desk, but the person standing in the field who can update mapping as they encounter discrepancies on-site. SiteMap is a collaborative tool that updates in real-time, which means you don't have to wait to get your projects moving. Once GPRS finishes a project on-site, SiteMap allows near real-time access to GPRS location findings. SiteMap users can now share their infrastructure data internally or externally at the click of a button.
SiteMap was designed with connectivity in mind—serving as a single source of underground utility truth that can be accessed anywhere, by desktop computer, tablet, or mobile device. Data that has been created in the SiteMap system can be exported out and linked to other GIS.
Brings Ownership Closer to the Action
Infrastructure information is often unknown to most staff except one or two individuals, or exists on paper in multiple offices or on multiple computer platforms. SiteMap brings all of your drawings and infrastructure data into a unified platform that is accessible on-site when you need it.
SiteMap gives users instant access to view every square inch of their facility, above ground and below, and empowers them to update the data in real-time to ensure it is reflective of what they are seeing in real life. SiteMap is a cloud-based solution that can be accessed in the field via an iPad or tablet, bringing project and data ownership directly to the site of activity.
Cost-Effective
Inaccurate and unorganized infrastructure data is a risk to safety and project budget. According to a poll of facility managers, directors, and administrators, subsurface damages result in a 59% increase in direct and indirect repair costs, racking up $30 billion in repairs across the industry. That is not a number facility managers want to be a part of, and SiteMap helps ensure they aren't by thoroughly and accurately mapping utilities to reduce subsurface damage
SiteMap is a cost effective GIS and facility management system for companies who are currently running multiple platforms by consolidating them into one. It also saves facility managers and construction projects money on change orders—if contractors have all of the utility and infrastructure data up front at their fingertips, there should be no reason for unexpected change orders halfway into a project due to an unexpected pipe.
Powered by GPRS
SiteMap is powered by GPRS, the nation's largest private utility locating company. GPRS delivers high-quality maps when performing utility locates, concrete scans, leak detection, and video pipe inspections. These maps help clients to better manage their facilities, complete improvements and renovations, and excavate safely. When integrated with SiteMap, facility managers have the assurance that their data is the most up to date, accurate, and comprehensive information possible.
SiteMap is a powerful and unprecedented solution to underground utility mapping that allows customers to experience and utilize their facility data with confidence and ease. Take the next step to keep your campus safe and contact us about implementing SiteMap for your facility today.