It was recently announced that Tesla has agreed to make their growing network of charging stations available to non-Tesla electric vehicles, through funding support from the U.S. Government. As reported by the LA Times, this deal is "part of the Biden administration's $7.5-billion plan to fund 500,000 EV chargers throughout the U.S," along major highways, mostly within 50-mile intervals.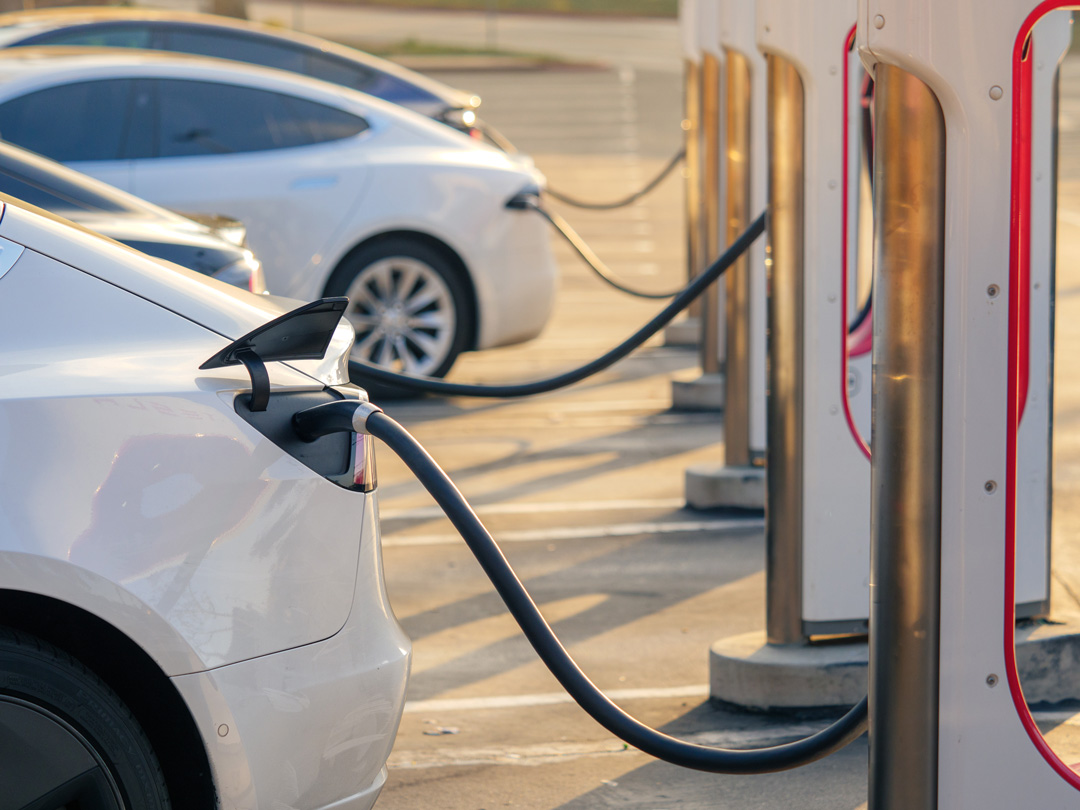 It is crucial to recognize the complexities of EV installation projects and plan accordingly. GPRS provides the highest quality nationwide service network, allowing customers to find an expert Project Manager in their area who can assist on their project by offering our suite of utility locating and subsurface mapping solutions.
Tesla's proprietary EV charging station, the Tesla Supercharger, creates a network that is "by far the world's largest and most reliable." The automotive giant currently provides 28,000 charging ports across all U.S. Supercharger stations, and 40,000 worldwide. With projects ramping up to support their expansion efforts, this is a great time of growth for construction partners supporting the EV industry.
It is crucial to recognize the complexities of EV installation projects and plan accordingly. For instance, in the case of Tesla's newest U.S. expansion project, reliable nationwide coverage is a major factor to consider. For this reason, GPRS provides the highest quality nationwide service network, allowing customers to find an expert Project Manager in their area. This service is designed to perform quickly and efficiently, meeting each client's specific site information, pricing, and scheduling needs on a national scale.
SiteMap®, powered by GPRS, is a powerful and innovative infrastructure management software with advanced digital tools designed to help projects of any size and complexity fully visualize every detail of their job site while keeping their documents, budget, and timeline properly organized. With such state-of-the-art capabilities, GPRS has successfully completed over 1,500 locations for EV charging station installations in the last 18 months.
Subsurface utility locating services are also a key factor in the success of any project. Regardless of job site, be it for a new EV charging station, restaurant, residential building, etc., there is always a risk of dangerous utility strikes. Accidental utility strikes can result in costly and even dangerous consequences for your construction team and the project's surrounding communities. However, GPRS utility locating services and SiteMap 's 3D mapping and modeling capabilities can limit that risk significantly by providing you with highly accurate data on utility locations and how they spatially relate to one another by compiling, cross-referencing, and sharing this data with SiteMap®. By constantly striving for 100% subsurface damage prevention, GPRS has become the leader in this industry. As the most trustworthy utility scanning company you could partner with, GPRS prioritizes data integrity throughout the whole process, especially as results are stored and fully visualized within the SiteMap® platform.
The quality of your surveyors, installers, and G.C.s are also very important. Errors in initial site evaluations and improper documentation can lead to costly redesigns and project delays later on. That is why we strive to have GPRS services on site within 24-48 hours of scheduling and ensure all your subsurface infrastructure is accurately accounted for prior to breaking ground. With SiteMap®, powered by GPRS, we can provide the most accurate maps and models and collaborative digital organizational tools to keep your projects on schedule.
Lastly, it is important to account and accommodate for the unique needs specific to the business your project partners with. For example, EV charging stations are now more commonly being installed at private businesses and franchises to meet their customers' needs. It is crucial to take the existing utility infrastructure into account when retrofitting EV charging stations for an existing business site in order to protect from potential strikes and damages to the existing infrastructure. To support these efforts, GPRS uses modern ground penetrating radar (GPR) among other industry-leading techniques to scan and accurately locate all subsurface utilities and obstructions. This data is then compiled, cross referenced, and made shareable with SiteMap®.
With our modern GPRS utility locating capabilities and SiteMap's digital infrastructure management tools, we are able to support projects of all sizes as they transition into the modern age of transport by helping to prevent costly strikes, saving time and money. Through these modern processes, facility managers and their teams can fully Visualize The Built World™ using an easy, streamlined approach.
What can SiteMap®, powered by GPRS, help you visualize? You can learn more by downloading our brochure, and contacting us for a quote today!