For any project, be it commercial, residential, or industrial, it is crucial to properly maintain all your facility's required permits. Failure to perform proper inspections or even the misplacement of their crucial data files can result in major project delays and unexpected additional costs.
As explained by 3 Phase Associates LLC, "cities, towns, counties, and states require permit requests by licensed contractors or designees" in order to prevent "erroneous construction, or the installation of faulty or incorrect equipment." By obtaining the proper permits, projects prove they have taken all necessary steps to ensure that "good quality and safe construction is being performed according to the latest codes, regulations, and zoning ordinances." Various Planning/Zoning Departments, Building Inspection Departments, and Land Development Offices control the required building inspection and permit processes established for construction projects.
With SiteMap®, powered by GPRS, you are provided with the state-of-the-art inspection, data collection, and digital planning services your project needs to centralize all its necessary municipal permits and/or inspection results. Our certified GPRS inspection services ensure you and your team have all the information you need to create a safe and efficient work environment, minimizing the risk of potential accidents or failures.
The key aspects for most project sites which often require such evaluation and documentation include underground utility and pipe inspections. Our qualified services efficiently and accurately inspect, map, and model these particular service lines to ensure you and your team have all the information needed to execute your project safely.
Utility locating is vital for any project. By maintaining accurate data of all buried utilities and their exact locations, this inspection process serves to protect all site employees from potential line strike damage as well as helping to avoid added costs. Up to date as-built drawings and facility maps of all underground utilities are key to the success of any construction project.

Our facility mapping and modeling services provide the most comprehensive, accurate data representing actual site conditions such as unexpected variations, renovations, or unknown pipes. By utilizing non-destructive, ground penetrating radar (GPR) and EM (electromagnetic) locators, among other equipment, to scan the subsurface of any given site for utilities, these services help you to avoid unexpected, costly surprises that can arise when projects begin to break ground. These services can map and model the precise location of numerous underground utilities such as…
Water Lines
Gas Lines
Sanitary Sewer
Storm Sewer
Electric Lines
Telecommunication Lines
Irrigation Lines
Unknown or Abandoned Pipes
Underground Storage Tanks
Utilizing industry-leading CCTV cameras, GPRS Video Pipe Investigation (VPI) services perform NASSCO certified underground pipe inspections. The VPI process can help identify faults and pipe defects by inspecting underground water, sewer, and lateral pipelines.
From cross bore prevention and mitigation, to sewer and water inspections, lateral inspections, and manhole inspections, our extensive services utilize modern surveying technology to fully map and report the state of any underground pipes located beneath your job site. We utilize modern technology including Robotic Crawlers (CCTV), Push Cameras, and Lateral Launch cameras to collect, map, and provide complete NASSCO VPI reports fully evaluating each pipe defect, its severity, and video footage from within the pipe during inspection.
The data and permits obtained from these inspections can then be easily filed in SiteMap®'s Digital Plan Room. The Digital Plan Room is an efficient and secure digital repository space for all your facility's important documents such as maps, models, photos, reports, and other necessary as-built documentation. Once uploaded, these files can then be viewed, directly linked, geolocated, and cross-referenced using our Map Viewer feature. Important documents which can be uploaded and organized in the Digital Plan Room include…
Underground Utility Locating Data
Concrete Scanning and Mapping Data
File Storage For Notes and Specifications
Historical Drawings
Site Photos And Annotations
Drone Footage, Photogrammetry, and Orthomosaic Imaging
Video Pipe Inspection Reports, Photos, and Video
Water Loss Surveys & Leak Detection Data
Digitized Blueprints
Point Clouds & Measurement Data
Maps & Models
As-builts of All Varieties
With SiteMap®, powered by GPRS, all your important inspection and permit documentation can be easily organized and maintained. This greatly improves the communication and safety on any project so you and your team can collaborate better. Our services will help you Visualize The Built World™ with the clear, comprehensive, and high-resolution maps and models your project needs, empowering your team to share plans and project goals with subcontractors, designers, engineers, and others using an easy, streamlined approach.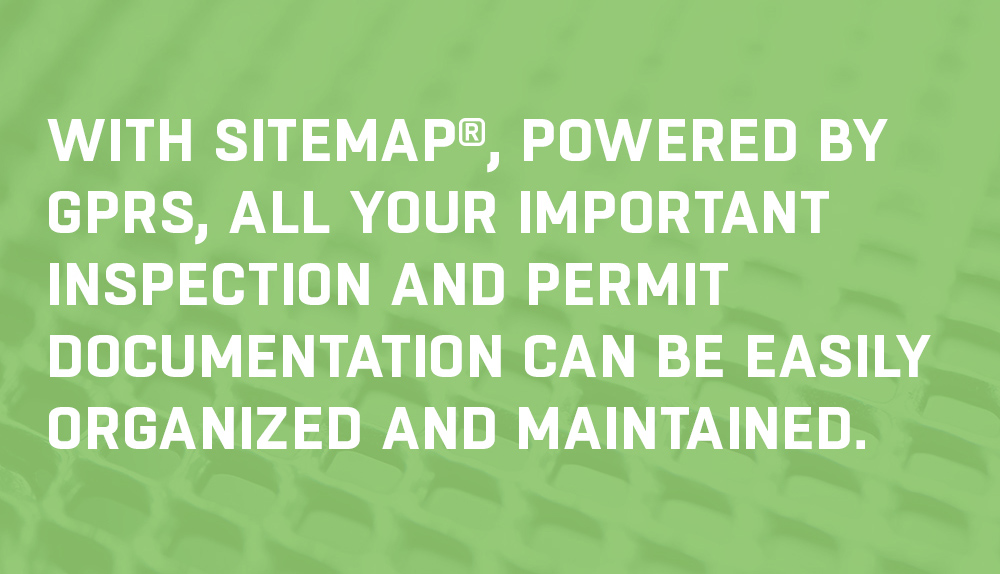 Learn more about how SiteMap®, powered by GPRS, can provide complete facility visualization and a unique digital tool to help you collaborate better. Download our brochure, and contact us for a quote today!