3D laser scanning is an innovative, modern, and efficient tool for mapping and modeling a variety of project areas. Its time-saving and cost-minimizing approach to measurement avoids unnecessary change orders and rework. By capturing real-world spaces with millimeter accuracy, the data collected from this process can then provide facility managers with comprehensive point cloud data and 3D models made accessible through GIS platform technology.
SiteMap®, powered by GPRS, provides 3D laser scanning, mapping, and modeling services using modern TruePoint 3D Laser Scanning technology. We serve a wide range of customers across many different industries with our 3D scanning services. The use of this innovative technology improves measurement quality and accuracy, provides immediate information, reduces manual labor, streamlines coordination, and greatly cuts time and costs. With all this in mind, it's no surprise that these innovative techniques have grown in popularity in recent years.
The numerous capabilities of this modern technology bring exciting opportunities to apply it in unexpected ways. This is especially true within the entertainment industry. Here are a few examples of Mixed Reality (MR) fan experiences only made possible by our 3D laser scans, point clouds, meshes, models, and GIS platform technology…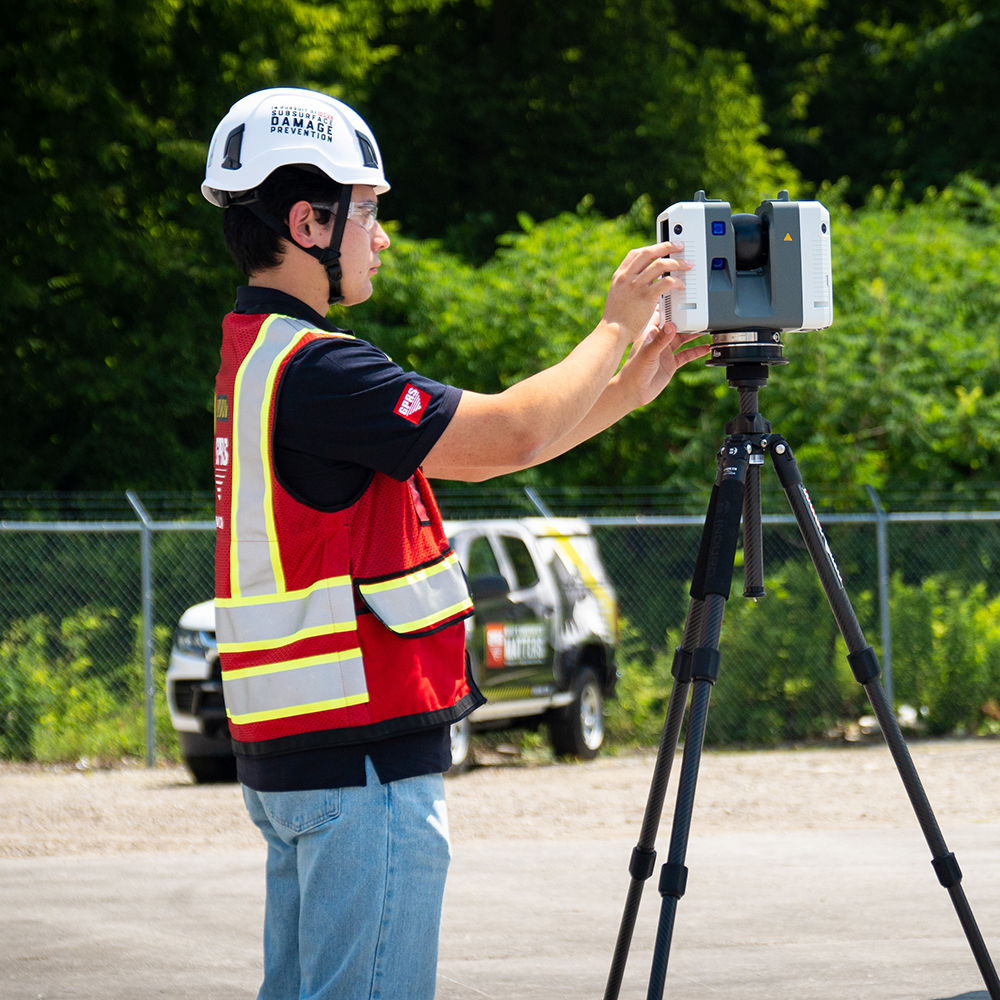 TruePoint/GPRS' 3D Laser Scanning GIS Technology is being incorporated into our SiteMap platform.
‍Gillette Stadium Virtual Reality Video Campaign‍
‍
On October 24, 2022, under the Monday Night Lights of the Chicago Bears vs. New England Patriots football game at Gillette Stadium, a virtual reality video campaign aired promoting the Gillette Exfoliating Bar Razor. 

In this powerful scene, the Patriot's mascot enters the locker room and flips the Gillette Labs switch, initiating an augmented reality sequence out on the field. This segment featured the assembly of a giant razor floating over the field and a grand finale of fireworks. This is the first time ever in which a retail product has been brought to life in this way using mixed reality software.

It was our GPRS/TruePoint 3D laser scanning capabilities which provided a full 3D model of the entire stadium for The Famous Group (TFG) to then use for the perfect placement of their virtual designs. 

The Famous Group EVP/Business Development's Andrew Isaacson stated that the laser scan data provided TFG with "pinpoint accuracy of the location of existing architecture," which TFG then used their "mixed reality effects to make it come to life."

This laser scan data has also been used by Gillette Stadium in their planning phase for new stadium renovations scheduled to be complete for the 2023 NFL season. If you look closely at the Gillette Exfoliating Bar Razor ad, the neon green video board also displays these new plans for renovation.
‍
‍Bank of America Stadium's Carolina Panther

‍If you visit The Famous Group's home page, the first video you see features a massive panther leaping down from the top of the Bank of America Stadium's scoreboard during a Carolina Panthers game in Charlotte, North Carolina.

In order to bring this now-famous video to life, it took only 1.5 onsite days to fully scan Bank of America Stadium with a Leica P40 ScanStation. This efficient, time-saving scanning process provided a hyper-accurate backdrop for this incredible mixed reality mascot. 

In addition to the stadium background, we also fully scanned and modeled Todd Andrew's "Gentle Giant" sculpture of the fierce panther which has guarded the stadium gates for years. Our digital model was then used to bring this iconic statue to life both on TV during the NFL's broadcast of the game and on the stadium's Jumbotron.
‍
M&T Bank Stadium's Baltimore Raven

‍Similarly to the work we provided for the Carolina Panther video, our laser scanning capabilities supported TFG in the design of a mixed reality raven which was featured during a recent Baltimore Ravens home game. This giant, menacing raven perches on the goal post before taking flight across M&T Bank Stadium's field in Baltimore, Maryland.

This project in particular presented its own challenges, especially in the design of the raven perched on the goal post and its overall visibility against the night sky. When interviewed about the project, TFG's Greg Harvey said "The beauty of mixed reality is the ability of computer-generated objects to interact with the physical environment, this sells the realism." In order to achieve this hyper-realistic experience for viewers, it was crucial that "parts of the stadium were captured with a laser-scanning technique," so that, "when the bird is actually on the uprights, its claws wrap around the crossbar and its wings appear behind the uprights." These fine details are only made possible through the accuracy of 3D laser scanning technology.
The mixed reality campaigns created using data provided by TruePoint/GPRS are able to amaze audiences around the world.
Here at SiteMap® we love how powerful these mixed reality campaigns are and their innate ability to amaze audiences around the world. Given how many sports venues we've now scanned and supported on projects, we were even honored with a feature in the Lidar News "12 Days of Laser Scanning From 2021"!
With our innovative SiteMap® capabilities, you can confidently plan and execute any project knowing our services provide the most accurate systems required to provide your team with fully comprehensive reports, maps, and models. We partner with those who aim to Visualize The Built World™ by providing them with accurate representations of their entire site, both above and below ground.
Learn more about how SiteMap® can save your project time and money while providing the most accurate results by downloading our brochure, and contacting us for a quote today!