Here at SiteMap®, powered by GPRS, we can deploy state-of-the-art Utility Locating Services leveraging the most advanced, industry-leading equipment to perform detailed inspections for our customers. Be it for a public or private property project, our unmatched nationwide service network will easily connect you with an expert Project Manager who can reach your location within 24 to 48 hours of contact to help you solve any of your particular utility locating needs.
Electromagnetic (EM) Locating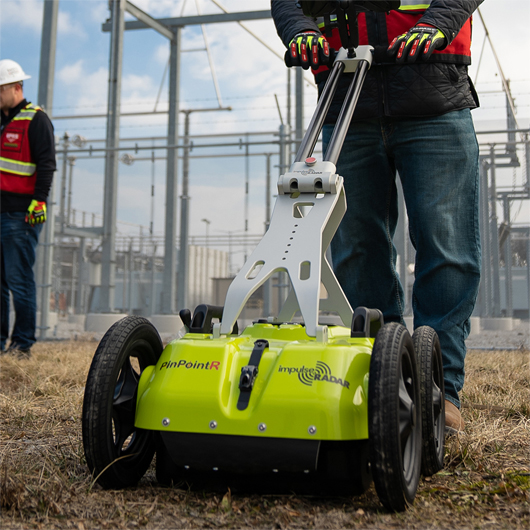 Ground Penetrating Radar (GPR)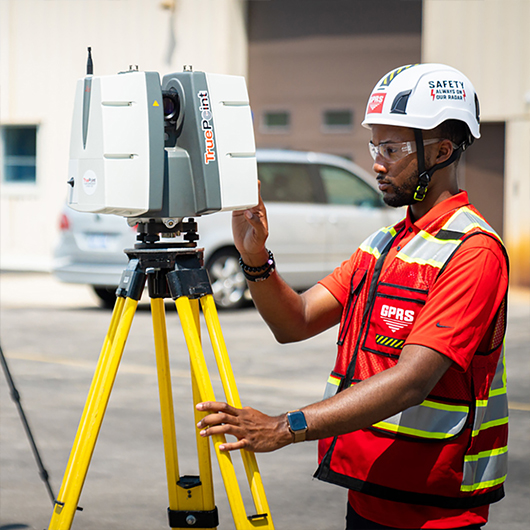 3D Laser Scanning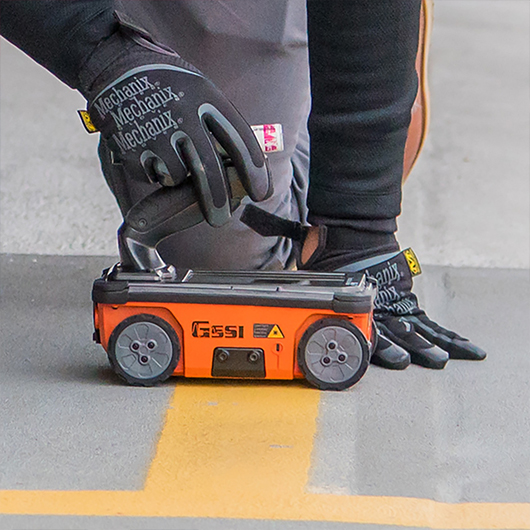 Hand Held GPR Device
What exactly is utility locating?
Utility locating is a crucial evaluation to ensure the success of any project because it  records accurate data for all buried utilities, their exact locations, and how they spatially relate to each other. This inspection process helps protect your site employees from potential line strike damage, and avoids unnecessary cost overruns, change orders, and redesigns as a result. Maintaining detailed, up-to-date facility maps of all underground utilities therefore are key to the success of any construction project.
Our innovative mapping and modeling services provide the most comprehensive, accurate data representing actual site conditions such as unexpected variations, renovations, or unknown pipes. We provide this vital data by utilizing modern, non-destructive scanning tools to evaluate the subsurface of any given site for utilities. These fully comprehensive services help you to avoid unexpected, costly surprises before your project breaks ground. These services can map and model the precise location of numerous underground utilities including water lines, gas lines, sanitary sewers, storm sewers, electric lines, communication lines, irrigation lines, unknown or abandoned pipes, and underground storage tanks.
10 Modern Tools for Utility Locating:
We at SiteMap®, powered by GPRS, utilize industry-leading equipment to provide our customers with Utility Locating Services they can trust. These tools include…
‍
1. Ground Penetrating Radar (GPR)
GPR is a method of utility detection which relies on radio waves to accurately identify any subsurface components which are hidden or buried. This particular tool is able to detect both metallic and non-metallic objects, making it applicable across a wide range of applications.
‍
2. Electromagnetic (EM) Locating
Electromagnetic pipe and cable locators are another modern method of locating underground utilities. These locators are composed of two key components: a transmitter and a receiver. The transmitter is used first to emit a specific frequency, and the receiver then detects the precise location of the underground utility.
‍
3. Electromagnetic Induction (EMI) Locating
At GPRS, we use EMI to detect underground objects and utilities such as USTs, well heads, and foundations. This tool pairs well with GPR as it performs best within the conditions that are the least conducive for GPR.
‍
4. Push Cameras
This tool is a smaller camera system capable of being manually fed into small pipes (diameter less than 6"). Each camera is equipped with a sonde, allowing for locating of pipe or lateral obstructions all while video recording this entire inspection process.
‍
5. Robotic CCTV Crawlers
GPRS' robotic crawlers are a powerful and adaptable tool for utility locating. Capable of inspecting large pipes (Diameters ranging from 6" to 96") these camera crawlers provide the most accurate views of pipeline conditions and their exact locations.
6. Magnetometers
These instruments can accurately detect the magnetic fields from ferrous, metallic objects underground. GPRS typically uses magnetometers to locate isolated, metallic utilities such as USTs, valves, manholes, and well heads.
‍
7. Acoustic Leak Detectors
This device includes a highly sensitive ground microphone, noise canceling headphones, and a monitor. When these pieces are combined, acoustic leak detectors allow our water loss specialists to pinpoint the location of a water pipe leak non-invasively by listening for distinct sounds caused by a leak.
‍
8. Leak Detection Correlators
Leak detection correlators are specialized electronic devices designed to locate a leak within pressurized water or gas lines. They employ a specialized algorithm to pinpoint the "spike" in signal that determines the location of a leak.
‍
9. Sondes
These utility locating probes allow our Project Managers to identify the location of underground utilities from an inaccessible location. For this reason, sondes are often included on our robotic crawlers, lateral launch, and push cameras, especially for pipe inspection services.
‍
10. SiteMap®'s 3D Utility Mapping and Modeling
3D utility mapping is a modern process for rendering a three-dimensional model representing a given project area, mapping out its underground utilities and their exact locations. This process compiles all subsurface utility information, such as water, sewer, and gas line inspection results, as well as any data of structures and electrical wiring.
‍
By maintaining an accurate 3D map of all the underground utilities at a project site and/or a corresponding CSM (Conceptual Site Model), facility managers and their teams can easily identify potential problem areas and develop solutions prior to breaking ground.
With SiteMap®'s innovative 3D Utility Mapping and Modeling capabilities, inspection results can be easily stored and referenced in our Digital Plan Room and fully modeled in our Map Viewer feature.
You can learn more about how our Utility Locating and other GPRS services are fully mapped and modeled with SiteMap® to ensure your team is empowered with all the necessary digital tools they need to successfully execute any project.
We strive to help those looking to Visualize The Built World™ by providing high-resolution, clear maps and models of any site, so that you can confidently share your plans with subcontractors, designers, engineers, and others to properly communicate all your project's design needs.
Learn more about how SiteMap® can help you and your team collaborate better and completely visualize your facility in a new, innovative way. Download our brochure, and contact us for a quote today!